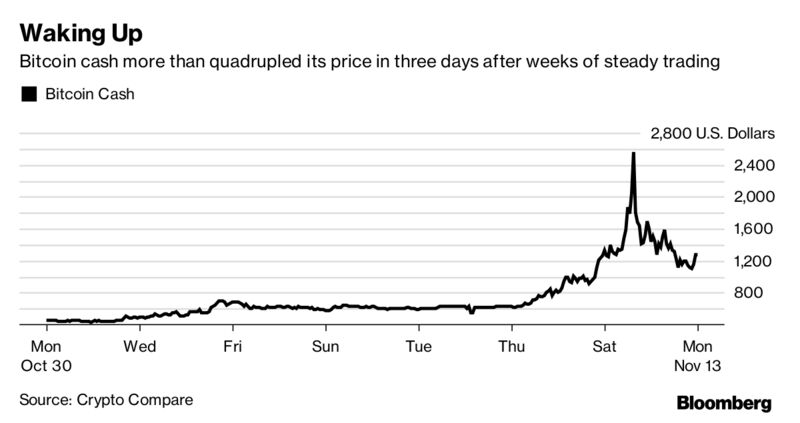 Just when you thought you had a handle on the newfangled crypto craze, here comes bitcoin cash.
Bitcoin's lesser-known cousin, the so-called cash version has disrupted the $200 billion market and over the weekend got close to overtaking ethereum as the second-biggest cryptocurrency by market capitalization.
The main difference between bitcoin and bitcoin cash is the block size. A block is equivalent to a file storing data on approved transactions, which is uploaded and hooked to the previous file, and makes up the blockchain. Bitcoin's blocks hold 1 megabyte of data, while bitcoin cash holds 8 megabytes.
Supporters of bitcoin cash say bigger blocks allow for faster and cheaper transactions, and view the size increase as the update bitcoin needed to become a better means of exchange to compete with payment services such as Visa or Master Card. Bitcoin handles about seven transactions a second, compared with around 2,000 for Visa.
Bitcoin developers decided to start solving this problem with an update called Segregated Witness, or SegWit, which aims to move some of the work required to check transactions off the main chain, in practice allowing for more data to be stored in each block. While this update was activated in August, most transactions in the bitcoin network are still not using it.
SegWit2x was meant to be the second stage of SegWit and increase the block size to 2 megabytes. Most of bitcoin's core developers say SegWit should be fully implemented before moving on to other updates. The sides had been locked in disagreement until supporters of the SegWit2x upgrade, which had been threatening to break off from the main chain even if they didn't have full support, decided to cancel the split last week.
Disappointed supporters of a bigger blocks saw bitcoin cash as an alternative and flocked to it, causing the price to surge to as high as $2,446 on Nov. 12, from around $600 before SegWit2x was called off Nov. 8. The digital asset has since given back some of those gains and is trading at about $1,170 today.