Bloomberg, Aug 5, 2015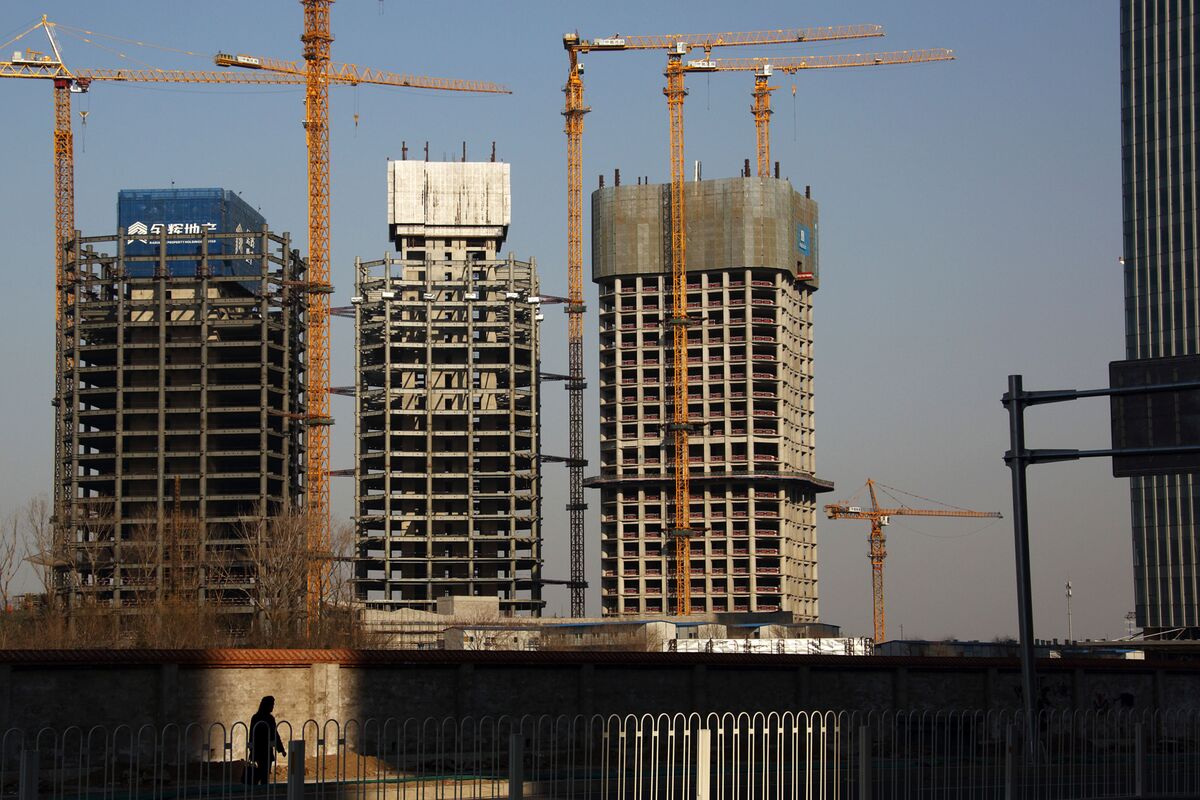 If you build it in Beijing, will the private sector come?
More infrastructure spending—with a twist.
A boom in the financial sector—spurred by a parabolic rise in share turnover—helped China's economy grow by 7 percent in the first half of 2015, according to official figures.
But the financial sector's unsustainable contribution to growth means that Chinese policymakers need an additional segment to pick up the slack if they're to continue meeting economic targets.
The avenue Beijing has chosen to build upon is a familiar one: infrastructure investment.
China embarked upon a massive infrastructure spending program from 2009 to 2012, which had the effects of "lifting economic growth in the short run but also creating a local government debt legacy that threatens financial stability even now," according to Dong Tao, Credit Suisse's chief regional economist for Asia (outside Japan).
Concerns about excess capacity in China might leave some questioning the merits of a further round of infrastructure investment, but HSBC chief China economist Hongbin Qu views this as a logical course of action on the part of Chinese policymakers.
"The combination of high borrowing cost, increased risk aversion amongst commercial banks, and delays in fiscal support saw Fixed Asset Investment (FAI) growth decelerating to a decade low of 11.4 percent year-on-year in June," he has written. "In particular, infrastructure investment, the obvious counter-cyclical policy tool, grew only 19 percent year-on-year in the first half of 2015, compared with 23 percent in the first half of 2014, adding to sluggish manufacturing and property investment."
To finance these and other recent initiatives, the People's Bank of China injects liquidity into policy banks (China Development Bank, Agricultural Development Bank of China, and Export-Import Bank of China), which then take equity in, or lend to, infrastructure projects favored by the government. Bloomberg reports that policy banks will soon issue special bonds and invest the proceeds in infrastructure projects.
Credit Suisse observes that—in part to avoid exacerbating local governments' debt burdens—China has revamped the policy loop that gives rise to these projects, effectively making it much more centralized than was the previous round of stimulus:
The PBoC creates liquidity to commercial banks, through cutting the reserve ratio/interest rates and selective easing. Banks buy policy banks' special bonds. Policy banks lend out to infrastructure projects that Beijing intends to promote. To some extent, the policy banks are doing what the local investment vehicles (LGIV) were under the Wen Jiabao administration. In the RMB4tn stimulus launched in 2009, the central bank eased monetary policies and banks lent to the local government investment vehicles, which are linked to the local governments, but have a separate balance sheet.
Here's what that the two "policy loops" look like in chart form: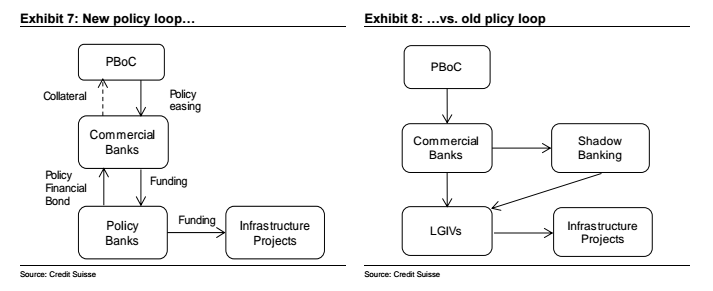 The important distinctions are that these policy bank bonds have longer maturities—making them better aligned with infrastructure projects, unlike the shadow credit provided to local government investment vehicles—and that policy banks will fund initiatives primarily with equity, rather than debt.
"Given their quasi-sovereign status, policy bank bonds are likely to be of longer tenor and lower cost, hence well-suited to match the duration of the underlying projects," wrote HSBC's Hongbin. "As China's near-term growth driver shifts towards infrastructure investment from export and manufacturing investment, this mode of financing (on top of municipal bonds) may become the new norm."
Having policy banks take equity stakes in infrastructure is essential to getting these projects fully financed and off the ground.
"Banks usually require an equity base equivalent to 30 percent or more of the infrastructure investment before being willing to commit to any lending, but new infrastructure projects have trouble securing the equity base, as shadow banking (the primary fund source in the past) shrinks," wrote Tao. "Policy banks' funds injection in equity form helps to address this hurdle."
Unlike the major round of infrastructure spending, this edition is far more "refrained," according to Credit Suisse, both in size and its concentration in specific areas. Its design, according to Tao, reduces the potential for "crowding out" and the creation of more excess capacity.
"This is not a repeat of the 2009 stimulus, but targeted easing to specific areas that potentially could help growth," he added. "Beijing does not seem interested in another outsized stimulus program that might deliver more harm to the economy than benefits in the long run."
These spending plans, however, serve as a signal that Chinese policymakers are not so willing to submit to a "new norm" of lower growth.
Still, this particular stimulative approach may not pay large dividends, said Tao.
"Unlike the last round in 2009, the private sector has demonstrated little interest in investment this time, despite Beijing's efforts," he wrote. "Until Beijing can find a way to re-engage private investment, we suspect that the economy may not benefit as much, other than in areas directly boosted by government spending and lending."