Long-term Treasuries slumped with December bills, while October maturities soared after President Donald Trump sided with Democrats on a plan to extend the U.S. debt limit and keep the government running through Dec. 15. The combo would be added to hurricane-relief legislation. It's a stark reversal from just 24 hours ago, when yields fell to 2017 lows and investors demanded the highest yield since 2008 on bills due Oct. 5.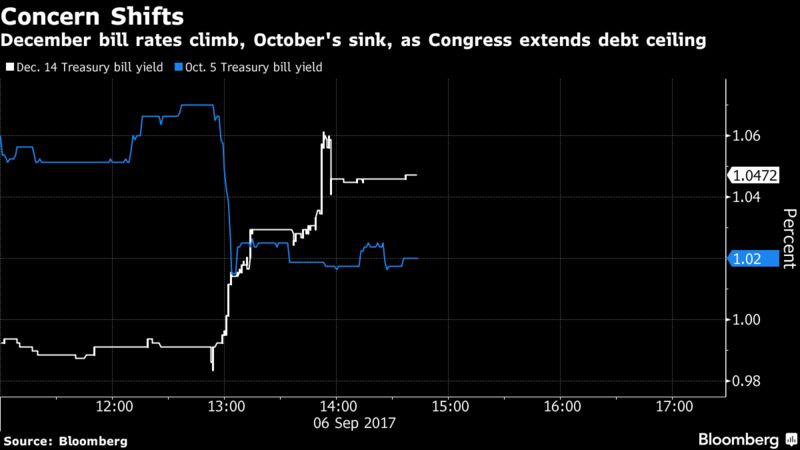 The turnaround, which also buoyed the dollar, shows how seriously the financial markets were taking the threat that lawmakers wouldn't be able to agree on extending the nation's borrowing capacity in time to avoid default. Treasury Secretary Steven Mnuchin had been saying Sept. 29 was a critical date for Congress to reach a deal. Now traders are pondering the prospect that this accord may pave the way for action on other issues.
"The market is pricing in less gridlock in Washington," said Alex Li, head of rates strategy at Credit Agricole. "The market seems to be suggesting that the administration and congressional leaders are more open now to get something done in terms of the legislative agenda," including overhauling the nation's tax system.
For the bond market, the development doesn't signal the end of the political drama, however: While rates plummeted on October bills, they've spiked higher on those maturing around mid-December, which means the "kink" that's captivated short-end traders for weeks has just been pushed back til late this year. 
As investors exited haven trades, the yield on benchmark 10-year Treasury notes rose about 4.5 basis points to 2.1 percent. The dollar gained 0.4 percent against the yen, for the biggest gain in a week.
The rate on T-bills due on Dec. 21 jumped 7 basis points to 1.06 percent. By contrast, rates on Oct. 5 bills plunged 17 basis points to 1.02 percent, leading a rally in securities due around Mnuchin's drop-dead date.
Republican leaders and Mnuchin were pushing for a longer-term debt-limit deal, according to a person with knowledge of the meeting. But Trump accepted an offer from Democratic leaders for a three-month deal that included funding the government until mid-December as part of emergency aid for Hurricane Harvey.