Joblessness in the euro area declined to the lowest level since early 2009, raising the prospect of a tighter jobs market finally putting the upward pressure on wages keenly anticipated by the European Central Bank.
The unemployment rate dropped to 8.7 percent in November from 8.8 percent the previous month, according to a report from Eurostat on Tuesday. The reading matches the median of 34 estimates in a Bloomberg survey.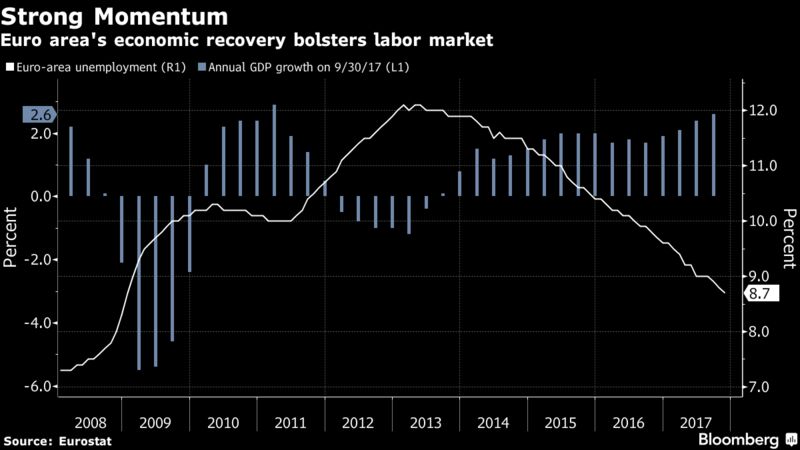 While the region's economy has returned to health following a period marred by bank failures, record joblessness and a sovereign-debt crisis that jeopardized the currency union, inflation has proved sluggish — in part because wages have been slow to rise. In a bid to fuel price pressures, policy makers have committed to continuing asset purchases until at least September.
"While falling unemployment should further boost consumption, thereby contributing to the self-sustaining character of the recovery, the key question for the ECB is when the unemployment level will start to affect wages," ING economist Peter Vanden Houte said in a note to clients. With the number of companies beginning to see production bottlenecks due to a lack of personnel, "wage growth should start to pick up."
Economic activity in the euro-area accelerated to the fastest pace in almost seven years in December as services surged while factories benefited from booming domestic demand and near-record growth in export orders, data last week showed.
In Germany, where unemployment is the lowest on record amid a veritable economic boom, industrial production increased almost twice as much as forecast in November, a separate release on Tuesday showed.
Meanwhile in Italy, the jobless rate dropped to the lowest since September 2012, providing a much-needed boost to the ruling Democratic Party before a general election in March.