The Federal Reserve will face growing pressure to accelerate its planned interest-rate increases after a nearly $300 billion spending package signed into law Friday juices a U.S. economy already souped up on tax Cuts.
Economists at banks and consulting companies are busy marking up their economic forecasts in response to the legislation, saying it will help lift growth in 2018 to well above the 1.8 percent rate the Fed reckons is the economy's long-run potential.
"It does shift the risks to the upside" to both growth and inflation, said former Fed official Peter Hooper, who is now chief economist at Deutsche Bank Securities in New York.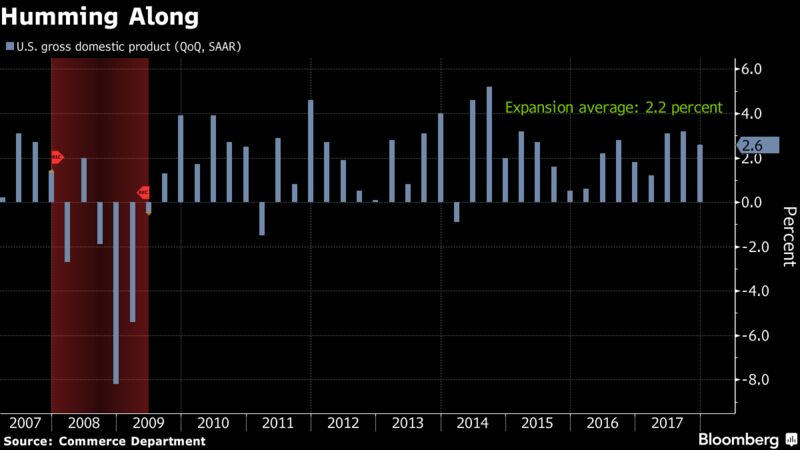 "So far, I'd say this is small potatoes," New York Fed President William Dudley said Thursday in a Bloomberg Television and Radio interview.
In a note to clients Friday, JPMorgan Chase & Co. chief U.S. economist Michael Feroli raised his forecast for growth this year to 2.6 percent, from 2.2 percent previously, and for next year to 1.9 percent from 1.6 percent. He also reaffirmed his call that the Fed will raise rates four times this year and next.
"We are now more confident that the Fed will need to move more aggressively than either the market or the dots currently anticipate," said Feroli, a former Fed researcher.
Hooper said he too is more comfortable with his prediction that the Fed under new Chairman Jerome Powell will boost rates four times in 2018.
He reckons that the additional government expenditure will raise growth this year by 0.4 percentage point, potentially lifting Deutsche Bank's economic growth forecast to 3 percent in 2018.
'Inflationary Pressures'
Mark Zandi, chief economist at Moody's Analytics Inc., also sees as much as a 0.4 percentage point lift to 2018 growth from the budget package, adding that it comes at a time when the economy is already operating at its limits.
"It will fuel inflationary pressures," Zandi said in an email. "How much inflation accelerates depends on how aggressively the Fed responds."
Feroli said the extra growth will drive the unemployment rate even lower. He sees it dropping to 3.2 percent by the end of next year, from a near 17-year low of 4.1 percent in January.
That would leave joblessness well below the 4.6 percent level that Fed officials think is sustainable in the long run, according to their December projections.
Stephen Stanley, chief economist of Amherst Pierpont Securities LLC, said the Fed could get a little breathing room if the tax cut package lifts the potential growth rate of the economy — as he expects.
Feroli though argued that the central bank may not be able to delay its response to see whether such long-term benefits show through.
"The Fed doesn't have the luxury to wait," he said.