Bloomberg, Apr 18, 2016
* Wagers on rally climb to highest since 2012, CFTC data show
* `There's a lot of fundamental uncertainty out there'
Funds Are Betting the Gravity-Defying Gold Rally Isn't Over Yet – Bloomberg
When it comes to gold, hedge funds are betting that what goes up will continue to go up.
Even after bullion's best start to a year since at least 1975, investors are positioning themselves for more gains. Money managers increased their wagers on a price rally to the highest since 2012, taking their optimism to a level last seen before a three-year bear market started.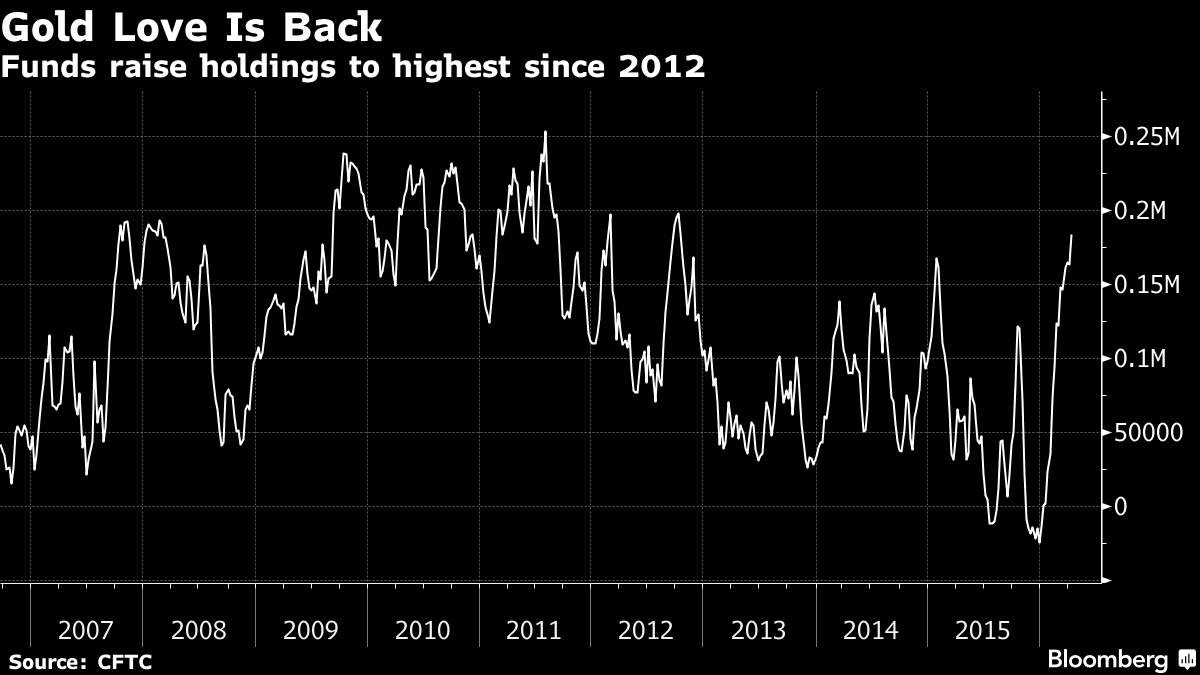 The metal has jumped 17 percent this year. Federal Reserve officials are cautious about raising U.S. interest rates amid persistent risks facing the global outlook. Investors are snapping up bullion as the shaky economy picture spurs haven demand, while low borrowing costs keep the metal competitive against interest-bearing assets.
"There's a lot of fundamental uncertainty out there, and of course gold has long-term stability," said Josh Crumb, the chief strategy officer who helps oversee $1.7 billion at Toronto-based GoldMoney. "The upside is still greater than the downside."
The net-long position in gold futures and options jumped 13 percent to 184,218 contracts in the week ended April 12, according to Commodity Futures Trading Commission data released three days later. That's the highest since October 2012. Holdings have almost doubled from two months ago, even as the rally stalled since mid-March. Futures rose 0.5 percent to $1,240.50 an ounce at 8:58 a.m. in New York on Monday after dropping 0.7 percent last week.
Fund Flows
Investors poured $13.9 billion this year into exchange-traded products tracking precious metals, data compiled by Bloomberg show. That's about 80 percent of the total inflows into commodity ETFs in 2016.
Traders have cut the chance of a U.S. interest-rate increase by December down to about 50 percent. That compares with 93 percent at the start of the year. Amid the growing expectations for looser monetary policy, the Bloomberg Dollar Spot Index is heading for a third straight monthly loss. A weaker greenback boosts the appeal of gold as an alternative asset.
Other precious metals are also getting a boost from the outlook that rates will stay low for longer. Silver futures have rallied 17 percent this year. Money managers last week increased their net-long position in the metal by 30 percent to 54,885 contracts. That's the highest since the comparable CFTC data begins in 2006.
Net-bullish platinum holdings rose by 15 percent last week to 17,362 contracts, the biggest gain since mid-February.
Historically, gold prices see some seasonal pressure in late spring and during the summer months, which fall outside of the festival seasons in India and China that boost physical purchases. The metal could stay in a "consolidation phase" during the next three months that keeps prices near $1,250, analysts at UBS Group AG said in a report e-mailed last week. That would still mark a 1.2 percent gain over Friday's settlement.
ETP Declines
There are some signs that enthusiasm is tapering. Global purchases through exchange-traded products have slowed amid signs of resilience for the U.S. economy. American jobless claims dropped in the week ended April 9 to match a more than 42-year low.
"We will see one or two rate rises this year, because the U.S. economy is doing pretty well," said Karyn Cavanaugh, a senior market strategist at Voya Investment Management who helps oversee $210 billion. But for now, "the lack of global growth is concerning people. People are asking where to put their money, and maybe gold is some place safe."