Bloomberg, Feb 3, 2017
* Chinese currency weakness boosted investment demand: WGC
* Bar and coin demand falls 2 percent after poor start to year
Gold demand rebounded to a three-year high in 2016 as investor concerns over political issues including Brexit spurred demand for a haven.
Purchases through exchange-traded funds helped global demand climb about 2 percent to 4,309 metric tons last year, the World Gold Council said in a report Friday. The recovery in ETFs offset a decline in coin and jewelry demand and reduced buying by central banks.
Gold gained the most in five years in 2016 as the Federal Reserve delayed interest-rate increases and the U.K.'s vote to leave the European Union boosted demand. The metal has posted more gains this year as U.S. President Donald Trump's unorthodox approach to governing unnerves investors and concerns mount about more political upheaval in Europe.
European politics offers "uncertain outcomes, with parties that were many moons ago fringe parties polling especially well at the moment," said Alistair Hewitt, head of market intelligence at the London-based WGC. "These geopolitical issues have driven continued inflows into gold-backed ETFs this year."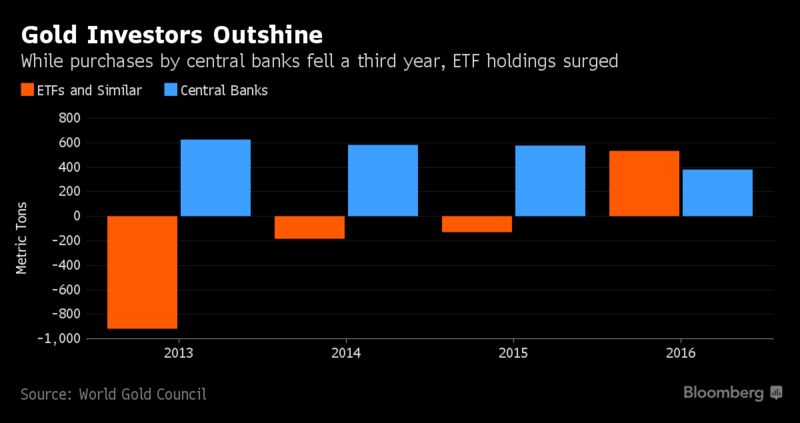 Demand for gold in ETFs and similar products totaled 532 tons last year, the second highest level on record, the council said. That helped increase total investment demand by 70 percent to a four-year high of 1,561.1 tons.
Still, combined bar and coin demand was "exceptionally soft" until the fourth quarter, falling about 2 percent to 1,029.2 tons for the whole year. Central banks cut purchases by 33 percent to a six-year low of 383.6 tons, partly because of pressure on foreign-exchange reserves, the council said.
Jewelry demand dipped 15 percent to a seven-year low of 2,041.6 tons as consumers in India scaled back purchases, partly as Prime Minister Narendra Modi withdrew large banknotes in a war on so-called black money. Total Indian consumer demand fell 21 percent last year to 675.5 tons and may be between 650 and 750 tons this year, the council said.
In China, the top consumer, total buying declined 7 percent to 913.6 tons. Chinese consumer demand is estimated at 900 to 1,000 tons this year, according to the council.
More full-year demand and supply figures:
Total consumer demand fell 11 percent to 3,071 tons
Global jewelry demand dropped 15 percent to 2,042 tons
Technology demand fell 322 tons from 332 tons in 2015
Total supply rose 5 percent to 4,571 tons