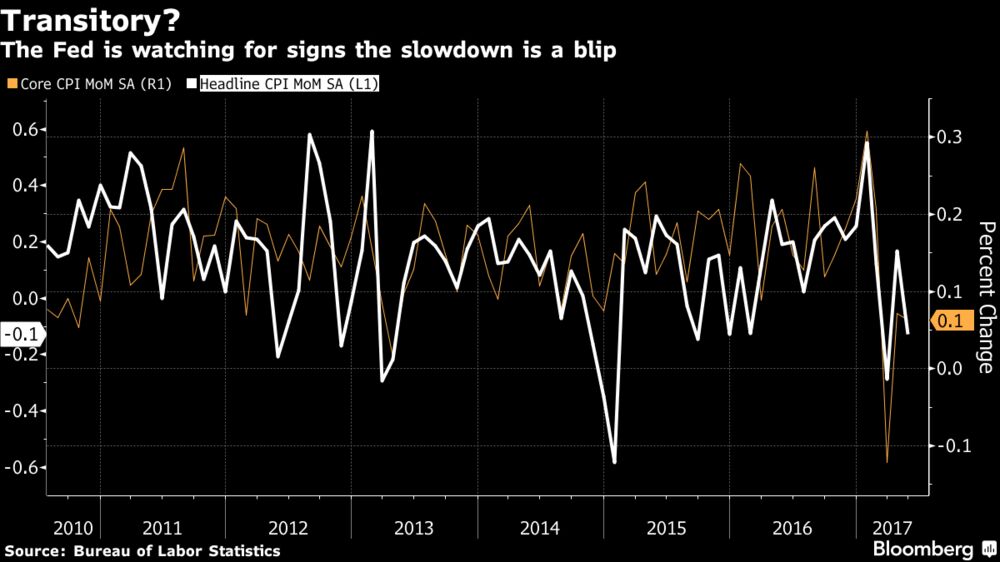 In a bad year for the Federal Reserve's inflation goal, Friday's consumer price index release will mark something of a milestone.
The Labor Department reports consumer price inflation for June at 8:30 a.m. in Washington on Friday, and the figures could either round out four months of sub-par progress or suggest that the slowdown is — as the Fed has been saying — transitory.
If the number comes in on the low side, it will mark more than a quarter of weak progress at a time when some Fed officials are predicating their support for another rate increase on a pickup in price pressures. Though the Fed prefers a separate Commerce Department price index, which will be released Aug. 1, Friday's data will give policy makers a window into how momentum is shaping up ahead of their July 25-26 policy meeting.
A shortfall of inflation from the Federal Reserve's 2 percent target has been a hallmark of this expansion. In her written testimony to Congress, Yellen subtly gave a nod to the possibility that these sluggish price pressures may be a product of more persistent, structural changes.
"If we don't get a bounceback, and we get a fourth straight month of a softer print, people are going to assume that it's going to be hard for the Fed to stay on their rate hike path," said Omair Sharif, senior U.S. economist at Societe Generale in New York. "They need a rebound to confirm what they've been saying about the transitory weakness in inflation."
Sharif said he'll be keeping an eye on the core, month-over-month consumer price inflation gauge. While the Fed's 2 percent goal is based on a year-over-year measure, Chair Janet Yellen has been de-emphasizing that metric, noting that a few one-off factors from March will continue to hold the rate down until they fall out of the equation next year.
"I do think there are some special one-time, transitory factors, these unusual changes reflecting the move to unlimited data plans for cell phones, and the large declines in some prescription drug prices," Yellen said in Senate testimony on Thursday. "There may be more going on. We're watching inflation very carefully in light of low readings."
Chicago Fed President Charles Evans, for his part, posited that technological changes to the competitive landscape — best evidenced by the rise of e-commerce giant Amazon.com Inc. — may be suppressing inflation by leaving businesses less able to raise selling prices even in the face of increasing labor costs.
Economists polled by Bloomberg expect consumer prices to rise 0.1 percent month on month in June, and by 0.2 percent once food and energy prices are excluded.
Extra Importance
The June inflation reading has taken on extra importance because several voting members of the policy-setting Federal Open Market Committee have signaled they won't support future rate increases unless they see proof that the slowdown will be short-lived. For instance, Governor Lael Brainard has signaled a willingness to get going on the balance sheet before seeing stronger price gains, but suggested she might be hesitant to move again on rates.
Once the balance-sheet unwind begins, "I will want to assess the inflation process closely before making a determination on further adjustments to the federal funds rate in light of the recent softness" in core inflation, she said on Thursday.
Dallas Fed President Robert Kaplan also sounded a note of caution Thursday.
"At present, with a federal funds rate at a range of 100 to 125 basis points, I would like to see some greater evidence that we are making progress toward meeting our 2 percent inflation objective in the medium term," Kaplan wrote in an essay.
Rate Hike
Few economists expect a rate increase at the Fed's meeting this month — and markets aren't looking for a third and final hike of 2017 until December — but some think the central bank could announce a start date for unwinding its $4.5 trillion balance sheet in July.
Inflation probably wouldn't have to accelerate by much to set the stage for the Fed to fit in another rate increase this year, said Michelle Meyer, head of U.S economics at Bank of America Merrill Lynch. She says if the month-over-month core number comes in at 0.2 percent, that would do the trick.
If the number comes in low, the reasons why will matter.
"You want to look at the breakdown — if it is weak, where did the weakness come from? Is it special factors, or are you seeing persistent factors," Meyer said, noting that she'll be looking for a slowdown in things like overall consumer services, which would be a sign that the pullback is more lasting.
"If there's evidence that there is broad-based weakening in inflation, I think the Fed will pay attention," she said.