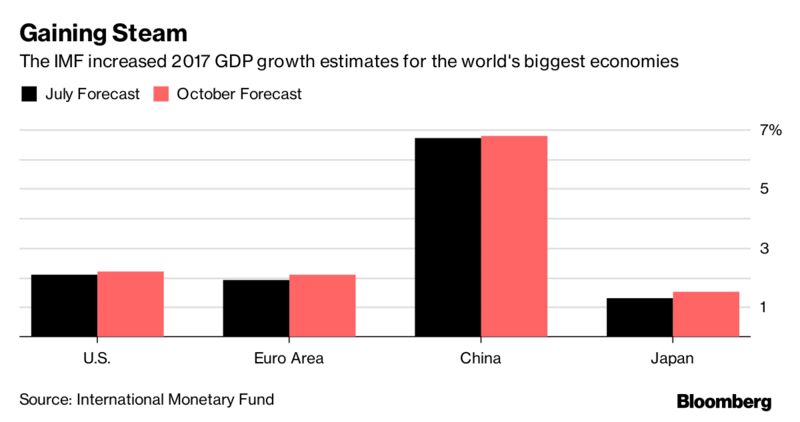 The International Monetary Fund warned policy makers not to get too comfortable even as it raised its global growth forecast amid brightening prospects in the world's biggest economies.
The Washington-based lender lifted its growth outlook for the U.S., the euro area, Japan and China from its last forecast in July. The recovery spans roughly 75 percent of world output, according to the IMF.
The fund projects the global economy will grow 3.6 percent this year and 3.7 percent next, in both cases an increase of 0.1 percentage point from its previous estimate. Analysts surveyed by Bloomberg expect gross domestic product to climb 3.4 percent in 2017 and 3.5 percent in 2018.
Either way, the recovery is accelerating from a low gear — global growth of 3.2 percent last year was the slowest since the Great Recession of 2007-2009. The fund warned that medium-term risks are tilted to the downside, highlighting dangers from tightening financial conditions, low inflation in advanced economies, financial turmoil in emerging markets and protectionist policies.
"Neither policy makers nor markets should be lulled into complacency," IMF chief economist Maurice Obstfeld said in the World Economic Outlook report. "A closer look suggests that the global recovery may not be sustainable — not all countries are participating, inflation often remains below target with weak wage growth, and the medium-term outlook still disappoints in many parts of the world."
Brighter Outlook
Finance ministers and central bankers from the IMF's 189 member nations will be heartened by the brighter global outlook as they meet this week in Washington for the fund's annual meetings. In a speech last week, Managing Director Christine Lagarde said the IMF is seeing "some sun break through" for the world economy. Investors have been basking for some time, with the MSCI world stock index up 15 percent this year.
But Lagarde warned that a strengthening recovery may be masking more troubling trends, such as an increase in political polarization brought about by inequality. The specter of trade wars also remain, though they may be less of a danger than at recent global economic summits. The same week as the IMF meetings, negotiators from the U.S, Mexico and Canada will meet less than five miles away for the fourth round of increasingly tense talks to overhaul the North American Free Trade Agreement.
The IMF bumped up its forecast for U.S. growth to 2.2 percent in 2017 and 2.3 percent in 2018 from 2.1 percent for both this year and next in its July estimates. "Very supportive" financial conditions and high business and consumer confidence are buoying the nation's prospects, said the fund. The IMF's base case doesn't take into account fiscal stimulus from tax reforms backed by President Donald Trump and Republican leaders in Congress.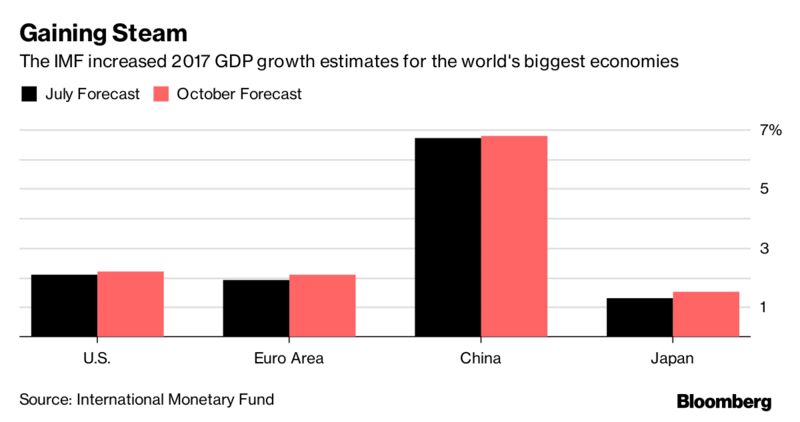 The fund now expects growth in the euro area of 2.1 percent this year and 1.9 percent next, both up 0.2 point from three months ago, as the currency zone's prospects strengthen on the pickup in global trade, ongoing strength in domestic demand and diminished political risk.
Growth in Japan is being driven by global demand and policies designed to keep fiscal policy supportive. The IMF projects Japan will grow 1.5 percent this year, up 0.2 point from July, before downshifting to 0.7 percent in 2018, which is still 0.1 point higher than anticipated three months ago.
The IMF raised its call on growth in China to 6.8 percent this year and 6.5 percent in 2018, up 0.1 point in each year compared with July.
The IMF is encouraging countries to take advantage of the benign climate to boost the growth potential of their economies and cushion the impact of the next downturn. In rich nations, central banks should keep monetary policy loose until there are firm signs of inflation, the fund said.
Countries should take steps to improve productivity while putting in place policies that reduce the pain of adjustment to labor-saving technology and globalization, the IMF said.
"Policy makers should act while the window of opportunity is open," according to Obstfeld.