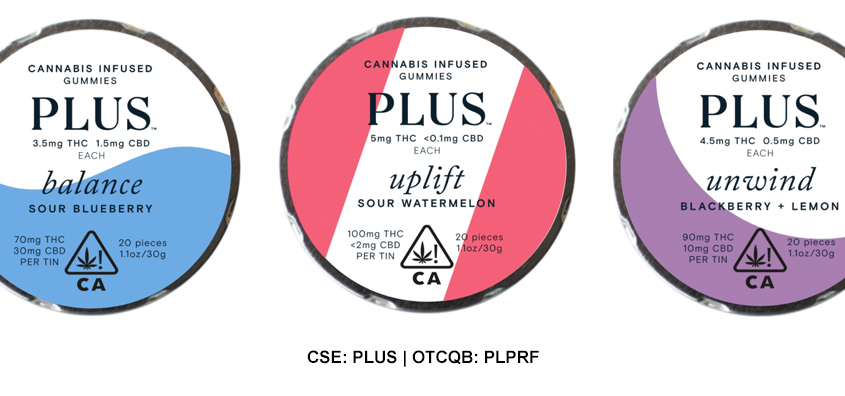 "I do one thing at a time. I do it very well. And then, I move on." That may have been the mantra of Dr. Charles Emerson Winchester III on the iconic television show M*A*S*H, but it can also be viewed as the framework for building a profitable company in the burgeoning global cannabis industry.
Oversimplified for effect, the point is that there is a whirlwind of activity in the legal cannabis market that makes it very easy for upstart companies to falter simply because they get swept up in going too many directions at once. For consumer packaged goods (CPG) company PLUS Products, Inc. (CSE: PLUS),(OTCQX: PLPRF) following the straight-forward model of CPG industry juggernauts like Coca-Cola (NYSE: KO), Mondelez International (NASDAQ: MDLZ) and Anheuser-Busch InBev's (NYSE: BUD) Budweiser is the road map to success.
The common thread for these CPG companies is brand-building underscored by becoming the best at one thing first and then expanding the product bag. Adding some nuances specific to the addressable market, PLUS Products is bringing this same formula to cannabis to build long-term value for investors.
Fastest Growing Market Segment
The cannabis industry could reach $130 billion by 2029, according to analyst Owen Bennett at the investment bank Jeffries, with a base case forecast conservatively set at $50 billion. With that in mind, there is no shortfall of opportunities. Some companies, like Canopy Growth (NYSE: CGC)(TSX: WEED), have elected to take a commodity approach as a cultivator. Others, such as MediPharm Labs (TSX: LABS)(OTCQX: MEDIF), have focused on the ancillary space.
For the seasoned management team at PLUS Products, manufactured edible cannabis products is the most lucrative opportunity. For starters, the CPG space is known to command higher EBITDA-to-sales margins and price-to-sales ratios than other traditional U.S. industries, like distribution and retail.
Furthermore, cannabis-infused edibles are one of the hottest trends in cannabis today, as consumers are starting to better understand cannabis options. Sales of cannabis edibles reached over $1 billion in 2018 and are forecast to be worth $4.1 billion by 2022.
The trend towards edibles is not expected to slow going forward. Mysterious deaths allegedly attributed to cannabis vaping have the industry abuzz and consumers concerned. Realistically, it shouldn't come as a huge surprise, as there has been backlash about vaping products since their inception and warnings from pundits and users about dangerous chemicals ingested with vaping. Obviously, smoking cannabis comes with risks associated with combustion, which will always deter many consumers away from pre-rolls and flower.
"It's still early, but consumers are starting to become educated on what edibles really are," commented Jake Heimark, co-founder and CEO of Plus Products, in a phone conversation with Baystreet.ca. "Historically, people associated edibles with 'magic brownies' concocted in someone's kitchen that left you sitting in the corner stoned for hours. That stigma is disappearing and people are learning that today's consumer products are closely regulated for safety and built on technology that provides effects targeted to the individual's needs, albeit pain management, anxiety or something else," he added.
Heimark is referring to the fact that PLUS product feature a unique combination of cannabis cannabinoids with tasty flavor profiles to provide users with a specific experience. In the words of Heimark, the consistency "will keep them coming back."
Further evidence of the competitiveness across flower, concentrates and edibles/tinctures is clearly provided in the following image, showing edibles are the way to go.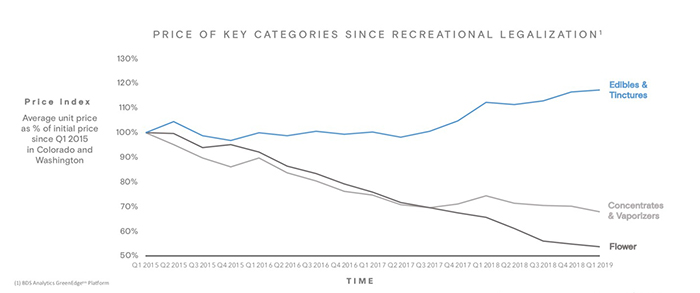 As the dogfight for customers continues amongst flowers and concentrates causing prices to sink over the past three years, pricing for edibles and tinctures has appreciated.
No Better Home Market Than California
California is hands down the largest market in the U.S., coming in about $2.5 billion in 2018, according to data from BDS Analytics GreenEdge Platform. To put that in perspective, Colorado was number 2 at approximately $1.5 billion, followed by Washington State at roughly $1.0 billion. Sales in California may have been ever greater had it not been for a wash-out period last year where sales actually dipped as new legislation was implemented that required re-stocking inventories with product compliant to the new laws.
Edibles and sublinguals (products that dissolve under the tongue) are making up more and more of the market, as shown by the GreenEdge Platform. In California, the percentage of market share has risen from about 13% in January 2017 to approximately 18% in January 2019.
Step one in building a successful consumer brand for PLUS Products was developing a product and penetrating the biggest market in America, California. Check. Not only has Plus penetrated the market with its PLUS Gummies, they are dominating the market with them. Maybe it should be somewhat expected considering PLUS brought in a former Michelin Star sous chef and Tcho chocholatier to spearhead its R&D activity.
According to GreeEdge Platform data, PLUS Unwind gummies is the #1 best-selling CBD inclusive product in California and the #2 best-selling cannabis product in California over the last 12 months by dollars of retail sales.
The only product that PLUS Unwind trails is…PLUS Uplift gummies. PLUS Uplift gummies are not only the best-selling cannabis gummies in California, they are the best-selling consumable cannabis product across all markets tracked by BDS in 2018 by dollars of retail sales.

BDS data shines a bright light on the dominant sales of PLUS gummies in 2018, revealing that unit sales of PLUS Uplift gummies more than doubled the unit sales of the next closest non-PLUS gummy product in the state. Overall, PLUS is commanding a stellar 21% of the total gummy market share in California.
In fact, PLUS gummy sales have held the top spot for unit sales for four straight quarters through June 30, 2019, with unit sales approaching 600,000 in the June quarter.
Next Objective: New Markets, Products and Consumers
With the roots set in California, PLUS is now moving into other markets. First up is neighbor Nevada, with its 45 million annual visitors and a cannabis market forecast to top $1.2 billion by 2022. To enter this market, PLUS partnered with TapRoot Holdings Inc., a vertically integrated cannabis company operating licensed cultivation and manufacturing facilities in Las Vegas.
Per the agreement, PLUS will leverage TapRoot's extraction capabilities as part of a supply deal while providing the operational expertise to ensure product consistency from state-to-state. For its part, TapRoot will share in the economics of the sale of PLUS products via a revenue sharing model.
The savvy move to partner with an established operator avoids long lead times and reduces capex necessary to construct independent licensed facilities. Next quarter should deliver the milestone of the first PLUS edibles hitting shelves at stores in Nevada. Going forward, management is targeting other key cannabis states, including Michigan, Arizona, Massachusetts, New York and Illinois, plus internationally, starting with Canada.
Given the success PLUS Unwind and PLUS Uplift, investors would be wise to be on the lookout for similar success with new products from the company. Remember the strategy of doing one thing very well and then moving on. Last quarter featured the launch of PLUS Mints as well as retiring the legacy CBD Relief product in favor of the new Mango CBD Relief brand.
To that point, a look at PlusProducts.com suggests that there is something big in the works. The homepage prominently shows that there is a PLUS Products exclusive launch event happening in New York City on September 17th.
In the future, the strategy involves expansion of the Unwind and Uplift (each with their own blend of THC and CBD) across product categories, including novel flavors of mints and gummies. These new products will leverage the familiarity of the existing brand while utilizing mint technology that delivers a quicker effect onset as a sublingual product.
Also in the pipeline is a line of cannabis-infused chocolates. This all dovetails with the playbook to do something well first and then expand, not to mention bringing a Tcho chocolatier in the head up product development.
The Proof is in the Pudding
For investors, the measure of success is in the numbers and PLUS has proved that its hyper-focused business model is working. During the quarter ended June 30, 2019, revenues surged 125% year-over-year to $3.6 million. Improved operating efficiencies grew gross margins to $0.7 million from $0.2 million.
The growth was purely organic to date, but should accelerate considering PLUS recently launched its first ever advertising campaign with billboards in prominent locations throughout San Francisco and Los Angeles.
As the upstart continues to invest heavily in business development, it is having no trouble finding investors passionate about the model, raising $23.68 million to bring its cash balance to $34.1 million.
The bottom line here is that PLUS is executing with precision to build a strong cannabis brand utilizing a successful formula and thoughtful growth. Interested parties would do well to look forward to the event on September 17 and see what management is doing next to continue to build and differentiate the brand.