Bloomberg, Jan 25, 2017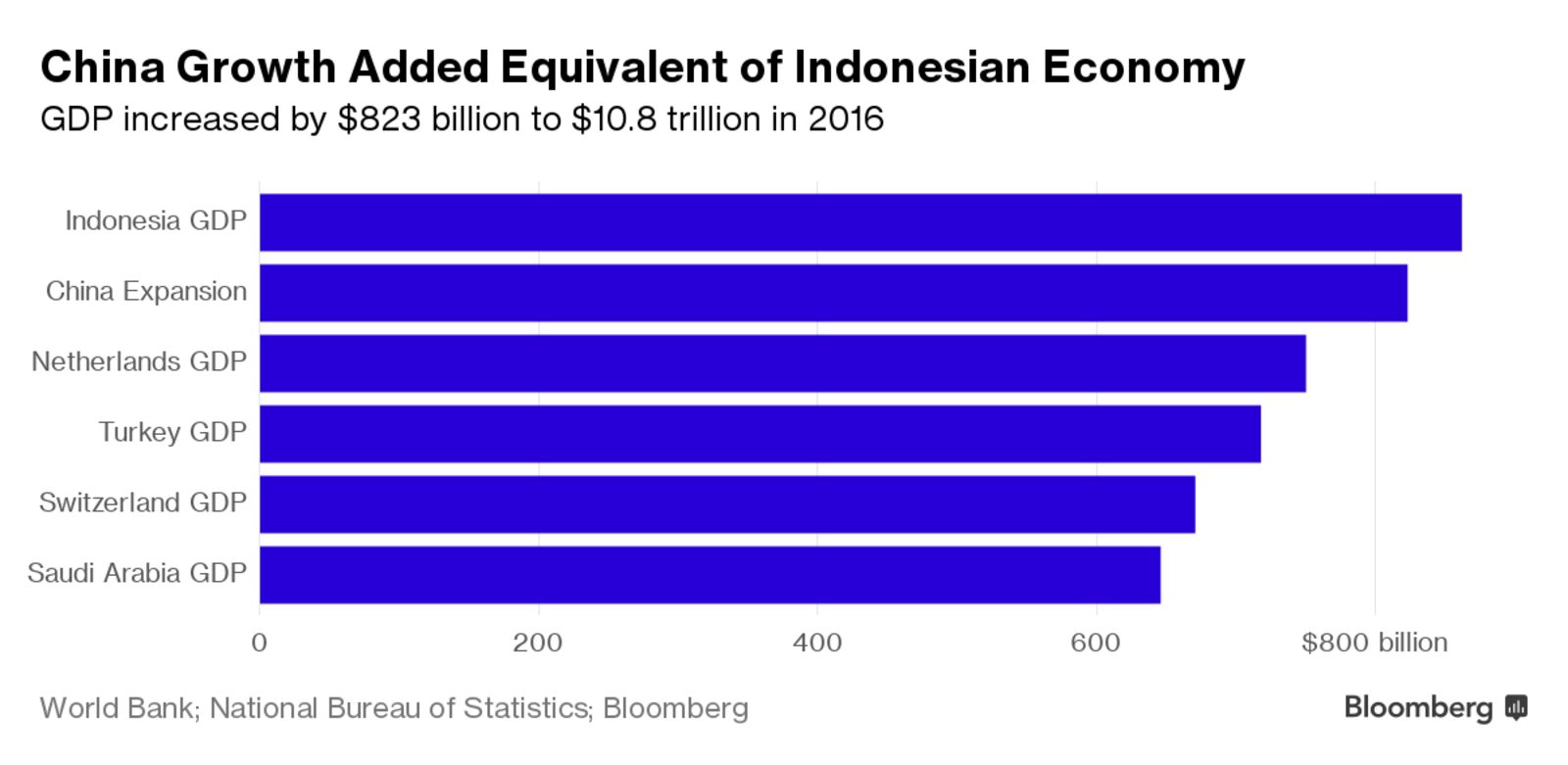 China's economy may be expanding by its slowest pace since 1990, but its increase in output in 2016 alone was still enough to add an economy the size of Indonesia and bigger than the Netherlands, Turkey, Switzerland and Saudi Arabia.
Put another way, the additional value created by China through last year was the equivalent of a medium sized G-20 economy.
China's gross domestic product added 5.5 trillion yuan last year, or $823 billion if converted to dollars using last year's average exchange rate, according to Bloomberg calculations based on World's Bank statistics and China government data released last week.
A look around China's provinces puts the performance in perspective. Hebei, an old rust-belt region on the front lines of government plans to shutter coal and steel factories bloated with excess capacity, grew by 6.8 percent, even after hundreds of plants were closed. That output alone, about $480 billion, is roughly the size of Poland's economy.
Such massive scale is a reminder of the risks involved should U.S. President Donald Trump pursue policies that lead to a trade war with the world's largest trading nation, which also is the largest contributor to global growth. The White House has been quiet on China since power transitioned Friday, but Trump has tapped several economic and diplomatic critics of the country to serve in his administration.
China dodged a widely predicted hard landing in 2016 as consumption held up and services continue to outpace the old manufacturing sector. The economy grew by 6.7 percent–comfortably within the government's 6.5 percent to 7.0 percent target range.
To be sure, that relatively robust growth is coming at a cost of surging debt on the back of massive government stimulus. Outstanding credit has likely risen to 264 percent of GDP, according to Bloomberg Intelligence, with much of the borrowing conducted over the past decade–a pace that worries analysts and the International Monetary Fund.
Besides, China's economy is not out of the woods. Sentiment towards the currency remains fragile and if Trump delivers on his promise of punitive tariffs, economists say the trade tensions could spark a major growth shock.