Sweden's Riksbank isn't getting the inflation it needs in order to raise interest rates and get itself back in shape for the next crisis.
The danger of having an empty toolbox next time trouble hits is raising questions about how the world's oldest central bank should be interpreting prices, after years of negative rates.
The Riksbank targets 2 percent inflation. After accelerating over the past few years, inflation started falling in mid-2017 and is again below target. The bank's main interest rate is minus 0.5 percent and policy makers say a weak inflation outlook may delay tightening. That's pummeled the krona, which is now at its lowest level since 2010.
But maybe policy makers want too much. Robert Bergqvist, a former researcher at the Riksbank in Stockholm and now the chief economist at one of Sweden's biggest banks, SEB AB, says "Perhaps we should start accepting that we might not reach 2 percent" inflation.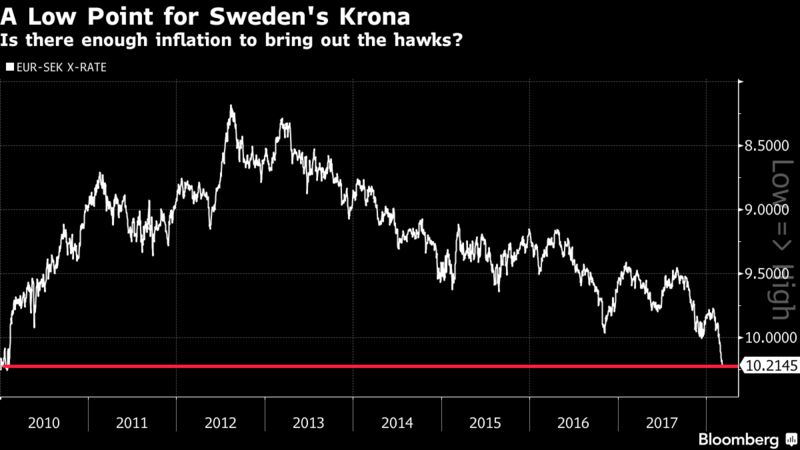 The Y-axis is inverted
"Sweden is struggling with the same problems as most countries," Bergqvist said. In other words, less price pressure thanks to globalization and automation.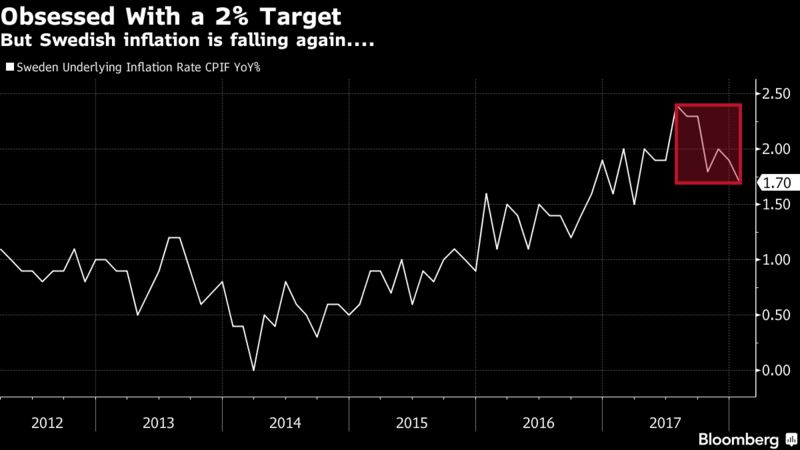 But what's a little different in Sweden is how central bankers look at the relationship between the labor market, wages and inflation.
The belief in the Phillip's curve — that low unemployment will eventually create wage inflation — doesn't really exist to the same extent at the Riksbank as it does at the Federal Reserve and the Bank of England, Bergqvist said. That's why the Fed and the BoE are more hawkish than the Riksbank, which tends to look at overall resource utilization instead.
Riksbank Governor Stefan Ingves recently underscored the bank's position. "It's not like the Phillip's curve, or any other single factor, is decisive when it comes to monetary policy," he said. "Our job is to factor in everything and make a judgment of what's happening with inflation going forward."
Economic theory suggests that "sooner or later" there will be more inflation, but "so far we have seen a surprisingly weak response," Bergqvist said.
Torbjorn Isaksson, an economist at Nordea Bank AB, says the Riksbank will probably cut its inflation forecast for 2018 at its April meeting. He also says the Riksbank probably won't raise rates at all this year.
BMI Research, a unit of Fitch Group, says the Riksbank is likely to be "more cautious than the market expects in raising policy interest rates."
Ylva Heden Westerdahl, the head of forecasting at Sweden's economic national research institute, NIER, says trying to figure out what happened to inflation is like piecing together a jigsaw puzzle. Something's not quite as it should be but "we don't know the answers," she said.
"It's a bit strange, given that the Swedish economy is at the height of the business cycle, wages and prices should have risen more."
Waiting for inflation to stick around the 2 percent target means interest rates may be too low the next time the Riksbank needs to start easing policy to help the economy. For Bergqvist, the optimal solution would be some form of expansionary monetary policy, "but without negative rates."