Bloomberg, Mar 10, 2016
* Food prices surge 7.3 percent in month of family feasts
* Non-food inflation remains tepid, while PPI deflation lingers
China's consumer price rose the most since mid-2014 in February as food costs jumped amid the week-long Lunar New Year holidays, where millions binge on roast pork, duck, seafood and veggies.

The consumer-price index rose 2.3 percent in February from a year earlier, up from 1.8 percent in January, as food prices surged 7.3 percent. Raising question marks over the durability of that pickup, non-food prices moderated from a month earlier to a 1 percent increase and services inflation slowed.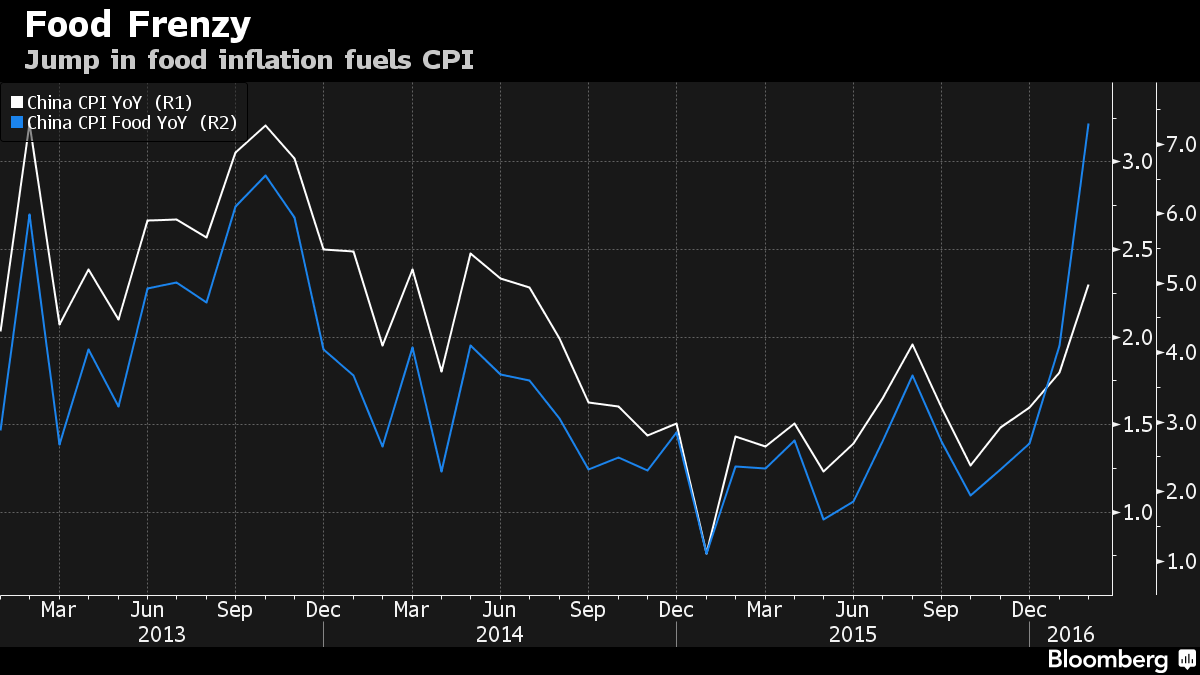 The producer-price index fell 4.9 percent, narrowing from a 5.3 percent decrease in January, extending declines to a record 48 months.
Stabilization in prices, if sustained in coming months, will ease policy makers' concerns over deflation, which discourages new investment and erodes profit margins. Still, CPI remains well below the government's target for 3 percent this year, meaning there's no constraint yet on policy makers' scope for easier monetary settings.
"Food prices surged before the Spring Festival and a cold wave pushed them higher," said Zhao Yang, Chief China economist at Nomura Holdings Inc. in Hong Kong. "The jump is temporary. Inflation is unlikely to become a concern that would limit monetary policy."
Zhao said he sees inflation moderating again in coming months, while there is some risk that rents will rise in the nation's biggest cities as property prices recover.
Mining and raw materials prices remained the biggest drag on factory prices.