Bloomberg, May 5, 2016
* Greenback has scope for losses, Citigroup's Englander says
* Economists predict payrolls swelled by 200,000 in April
A day of reckoning looms for the dollar, according to Citigroup Inc., the biggest trader in the $5.3 trillion-a-day currency market.
The greenback gained a second day Wednesday, paring a recent selloff that saw the currency touch a one-year low. Traders are girding for a payrolls report that may dictate whether the Federal Reserve raises interest rates in June, according to Steven Englander, Citigroup's global head of Group-of-10 currency strategy. A private report showed U.S. employers added fewer workers last month than forecast, muddying the outlook for benchmark borrowing costs.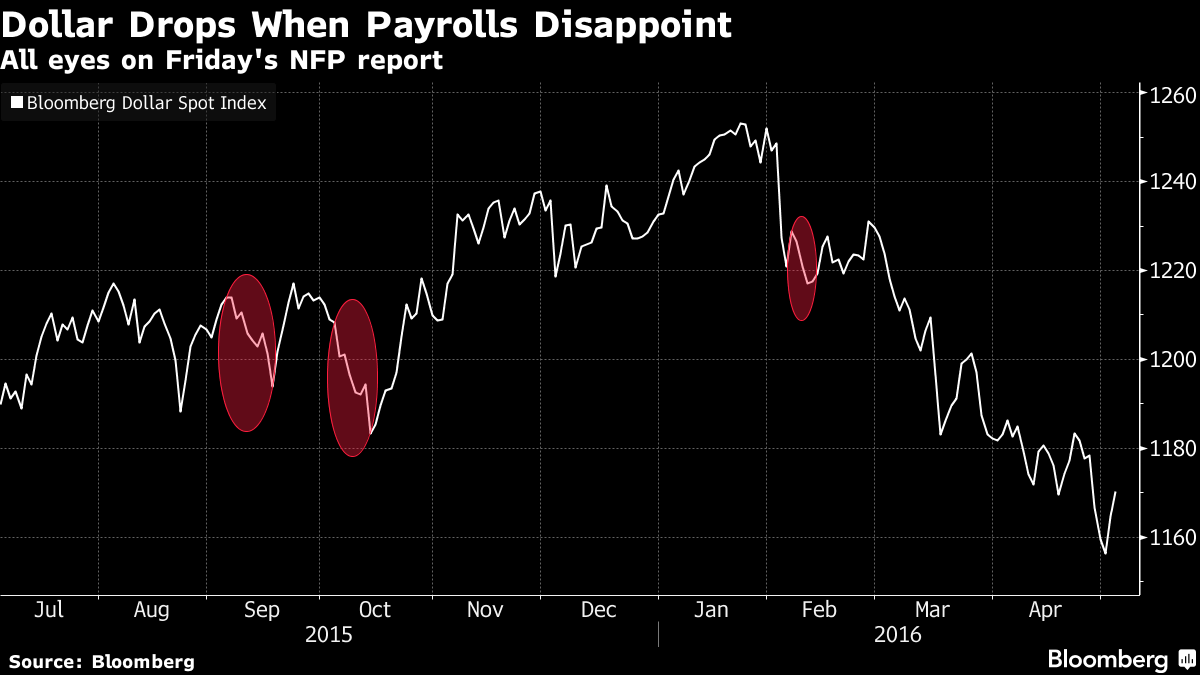 The Fed is scrutinizing data before its June meeting for signs the U.S. economy is able to withstand tighter policy after the central bank lifted rates from near zero in December. As U.S. policy makers have reiterated that an interest-rate increase at their June meeting is "a real option," the spotlight has swung to economic data. The Labor Department report due May 6 is forecast to show the third straight month with payroll gains of 200,000 or greater.
"This is like judgment day for the Fed, with respect to whether they really think there's a chance that June is live," New York-based Englander said by phone. "That makes the dollar very sensitive."
The Bloomberg Dollar Spot Index, which tracks the greenback versus 10 peers, rose 0.5 percent on Wednesday in New York, after reaching an almost one-year low on Tuesday. The gauge was little changed as of 7:55 a.m. in Singapore. The U.S. currency retreated 0.1 percent to 106.94 yen and was at $1.1490 per euro.
The greenback's retreat in 2016 has eroded more than half its 9 percent surge last year, roiling global markets and complicating the task of central banks around the world that need weaker currencies to boost their economies. The dollar fell for a third straight month in April, the longest stretch since before it embarked on a 20 percent rally in July 2014.
Jobs Watch
Figures from the ADP Research Institute on Wednesday showed U.S. companies added 156,000 workers in April, falling short of analyst estimates. Economists are predicting payrolls climbed by about 200,000 last month after a 215,000 increase in March. A figure below 130,000 would likely take a rate rise off the table, Englander wrote in a note to clients.
"On a bad number, we would see the dollar weaken," Englander said. "The unwinding of the dollar strength is far from complete."
The greenback slumped as much as 0.7 percent on Oct. 2 when payrolls fell 58,000 short of forecasts as traders scaled back expectations for Fed rates. Futures contracts show a 10 percent likelihood of an increase in June, and a 52 percent probability for December. The calculation assumes the effective fed funds rate will average 0.625 percent after the central bank's next increase.
Hedge funds increased wagers on dollar weakness last week after turning net bearish on the currency versus eight peers for the first time since 2014 a week earlier.
Forecasters expect the dollar to strengthen to $1.10 per euro and 115 yen by year-end.