Bloomberg, Sep 18, 2016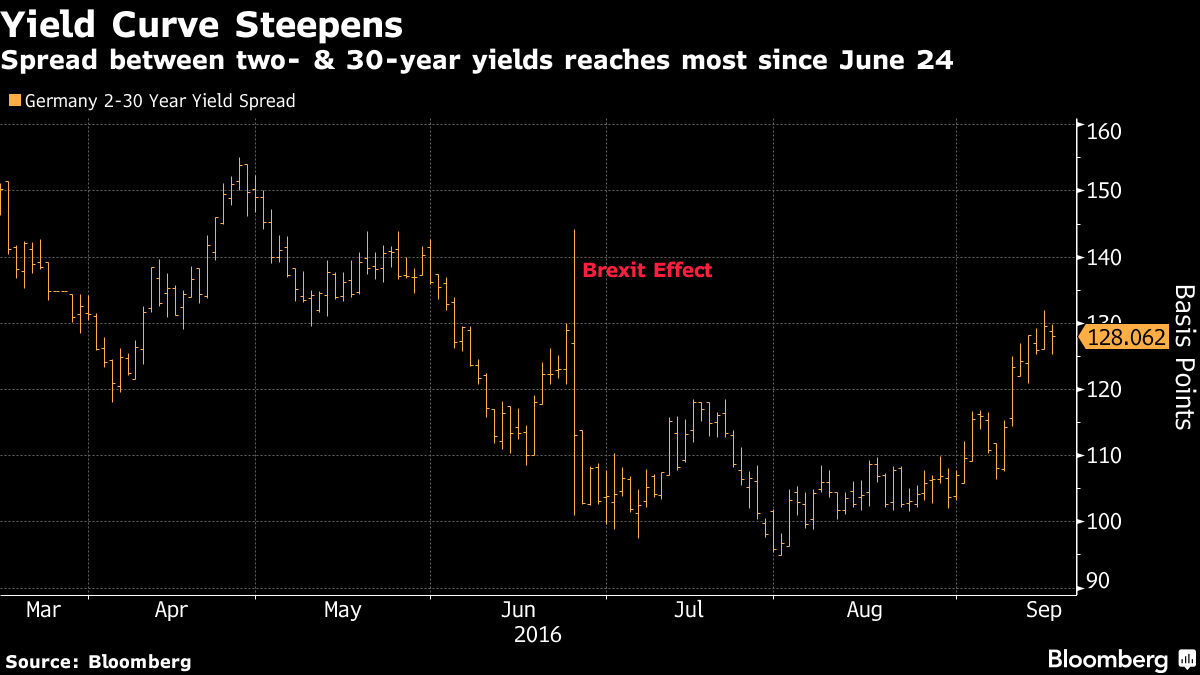 Increase in yields makes more bonds eligible for ECB purchase
German two-, 30-year spread reaches most since Brexit vote
By disappointing bond investors this month, Mario Draghi has bought himself some time on quantitative easing.
The selloff since the European Central Bank president failed to signal an extension of the bond-buying plan on Sept. 8 has reduced the proportion of German sovereign debt yielding less than the institution's deposit rate to 60 percent, from about two thirds in late August. Since the ECB is prohibited from buying securities below this threshold, the prospect of it running out of bonds to purchase has receded, data compiled by Bloomberg show.
The need for a tweak to QE has therefore become less urgent, Vincent Chaigneau, London-based global head of rates and foreign-exchange strategy at Societe Generale SA, said in a note. 
When the euro region's central banks are able to buy more shorter-dated bonds, because their yields are no longer below the ECB's minus 0.4 percent deposit rate, then there's less pressure for officials to purchase longer-term securities. This helped shorter debt outperform this week, steepening the German two- to 30-year so-called yield curve.
"It's a nice side effect that yields are going up and it's getting easier for the ECB to get all the bonds it needs, but it wasn't their intention to talk yields up," said Rene Albrecht, a rates and derivatives analyst at DZ Bank AG in Frankfurt. "Beyond a three-month horizon, yields should be biased for moving higher."
Brexit Vote
The two- to 30-year yield spread widened to as much as 132 basis points, or 1.32 percentage points, this week, the most since the June 24 Brexit announcement. It was at 128 basis points as of the 5 p.m. London-time close on Friday.
Where bunds, and markets generally, go from here will be largely down to the Sept. 20-21 meetings of the Federal Reserve and Bank of Japan — particularly with the ECB's next policy decision not due until Oct. 20. 
Following the Frankfurt-based ECB's last meeting, Draghi said officials would consider how to ensure its bond-purchase plan doesn't run out of assets to buy.
Even with the slide since that gathering, German debt with maturities out to seven years yield less than the deposit rate. And with data Thursday showing euro-zone inflation remains well short of the ECB's goal, for many investors, a QE extension is still a question of not if, but when.