Bloomberg, Mar 3, 2016
* Nation had pledged to boost exports by 50 percent within weeks
* Banking and logistical hurdles said to constrain sales
Iran's return to global oil markets after sanctions were lifted isn't living up to the country's grand ambitions, or at least not yet.
Six weeks after the historic nuclear deal that allowed Iran to resume oil sales around the world, the OPEC member is shipping barely a third of the extra 500,000 barrels a day it had vowed to unleash within weeks of sanctions being lifted. The country faces hurdles at every step, whether reviving output from aging oil wells or overcoming lingering banking constraints that have forced it to sell crude in barter arrangements, according to BNP Paribas SA.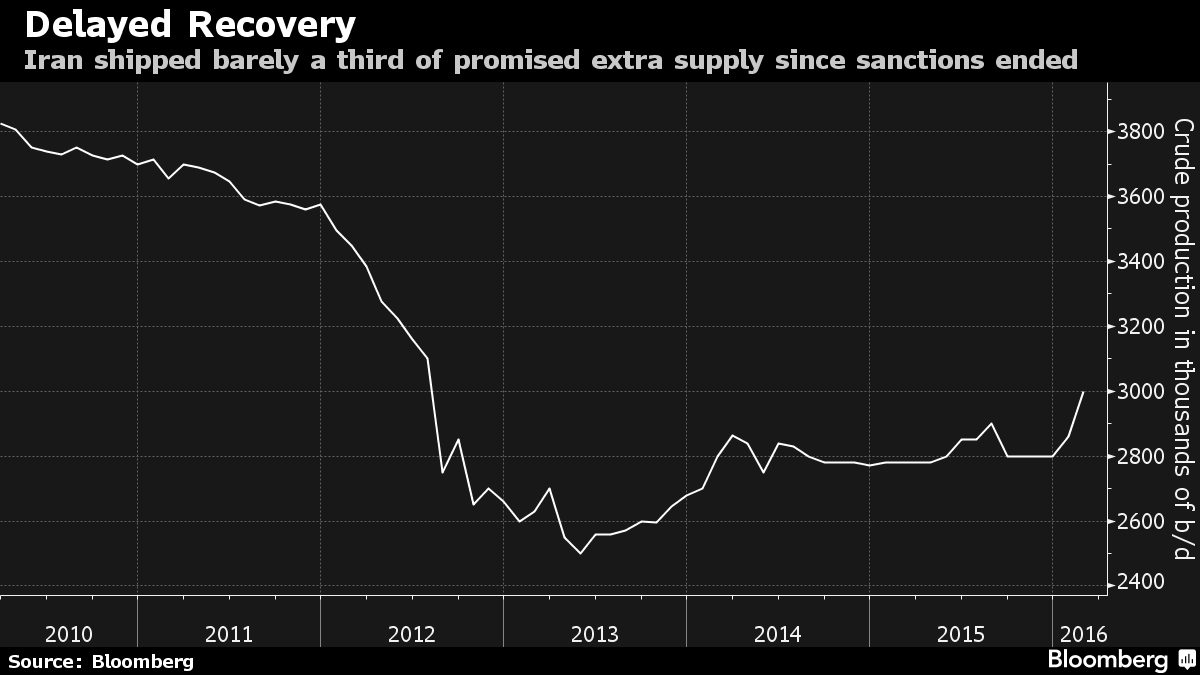 "Iran is facing short-term obstacles in regaining market share lost to other OPEC members, and in restoring production to pre-sanctions levels," said Harry Tchilinguirian, head of commodity markets strategy at BNP Paribas in London. "Longer term, the legal and regulatory framework is an obstacle."
Iran was the second-largest producer in the Organization of Petroleum Exporting Countries when Europe banned imports of the nation's crude and the U.S. tightened financial sanctions in 2012. Its crude production averaged 2.8 million barrels a day last year compared with 3.6 million in 2011. Oil Minister Bijan Namdar Zanganeh has stressed the importance of regaining lost markets, rejecting an initiative between some OPEC countries and non-members to freeze production to boost prices from a 12-year low.
When the trade restrictions were still in place, Iran had pledged to increase its 1 million-barrel-a-day crude exports by about 50 percent once sanctions were lifted. They actually only shipped an extra 130,000 barrels a day in February, bringing the total to 1.42 million a day, according to shipping data compiled by Bloomberg.
Expected Struggle
Iran's struggle is in line with the expectations of oil watchers such as Goldman Sachs Group Inc. and Barclays Plc, who had warned the export recovery would be limited. The Middle Eastern nation will boost production by 285,000 barrels a day for 2016 as a whole, Goldman estimates.
Iran loaded its first cargo of oil to Europe since 2012 last month onto a tanker chartered to French oil company Total SA. The Atlantas, a very large crude carrier, loaded at the Persian nation's port of Kharg Island last month and is sailing around the Horn of Africa on its way to Europe, according to ship-tracking data compiled by Bloomberg.
That's a longer journey than Iranian crude used to take to European ports because of another logistical hurdle — Egypt and Gulf Arab crude producers have yet to let Iran resume oil shipments through a pipeline connecting the Red Sea with the Mediterranean.
Suez Pipeline
The SuMed pipeline provides a shorter transit than the African route for oil cargoes from the Gulf region to the Europe that are carried in ships too large to sail through the Suez Canal. The tankers can transfer some of their oil into the pipeline, thus lightening their loads for passage through the canal, or fully discharge cargoes that can be collected by smaller vessels at the far end.
Arab Petroleum Pipelines Co., which operates the link, is still reviewing terms of the agreement that removed sanctions on Iran in January, according to a company official. The operator is seeking to ensure Iran complies with sanctions regulations before resuming oil shipments halted since August 2012, said the official, who asked not to be identified citing company policy.
Another oil tanker, Distya Akula, has been anchored at the southern approach to the Suez Canal since Feb. 24 after loading at Kharg Island, ship-tracking data show.
Transactions Refused
Some banks have been refusing to process payments for European refiners seeking to buy cargoes of Iranian crude. Hellenic Petroleum SA has struggled to secure deliveries because banks wouldn't process payments, two people familiar with the matter said last week.
With Republican candidates threatening to undo President Barack Obama's lifting of Iran sanctions, most European banks will likely keep avoiding financing deals with the Islamic Republic, according to Caitlin Webber, a government analyst at Bloomberg Intelligence.
National Iranian Oil Co. has sought to circumvent this problem by agreeing to swap crude for gasoline with European trading houses Glencore Plc, Trafigura Beheer BV and Vitol Group SA, according to a report by Iranian news service Mehr. The three companies declined to comment.
Iran may be doing better than estimated, with exports averaging 1.5 million barrels a day during February, according to Citigroup Inc.
"Recent data indicates that exports are at the upper end of people's expectations," said Seth Kleinman, European head of energy research at Citigroup in London. Exports touched almost 2 million barrels a day in the second half of February, he estimated.
Prior to the end of sanctions, Iran's petroleum engineers laid the groundwork for a swift increase in supply of about 600,000 barrels a day by the middle of the year, the International Energy Agency said Feb. 22.
"It's not like when Saddam Hussein left Kuwait and blew the place up," Kleinman said. "These facilities were underinvested, they were overworked, but they were there."