Bloomberg, Nov 20, 2015
* Euro drops as ECB president signals more monetary easing
* Bundesbank's Weidmann argues oil slump has stimulative effect
European Central Bank President Mario Draghi set the scene for further stimulus in two weeks' time, saying the institution will do what's necessary to reach its inflation goal rapidly. The euro fell.
"If we decide that the current trajectory of our policy is not sufficient to achieve that objective, we will do what we must to raise inflation as quickly as possible," Draghi said in a speech in Frankfurt on Friday. "In making our assessment of the risks to price stability, we will not ignore the fact that inflation has already been low for some time."
Draghi's comments underline the ECB's concern that the inflation rate in the 19-nation euro area, currently 0.1 percent, will slip further from its target of just under 2 percent amid a high degree of economic slack and slumping oil prices. Policy makers are weighing the need for an expansion to the 1.1 trillion-euro ($1.2 trillion) quantitative-easing program that started in March, or measures such as taking the deposit rate further below zero.
The yield on German 2-year bonds slid to a record low of minus 0.389 percent and the euro dropped. The single currency was down 0.4 percent at $1.0689 at 2:47 p.m. Frankfurt time.
Power Tool
"A further stimulus announcement in December is a virtual certainty," said Marco Valli, chief euro-area economist at UniCredit SpA in Milan. "'We will do what we must' leaves little room for interpretation: if they fail to reach target, they do more."
The ECB's Governing Council will meet in Frankfurt on Dec. 3 for its next monetary-policy meeting. While Draghi and Executive Board member Peter Praet, the institution's chief economist, have indicated more easing is in the cards, some governors have expressed unease.
Estonia's Ardo Hansson, Slovenia's Bostjan Jazbec and Germany's Jens Weidmann have signaled since the last meeting that they see no need to ease policy further just now.
"I see no reason to talk down the economic outlook and paint a gloomy picture," Weidmann said in a speech at the same event as Draghi. "Crucially, the decline in oil prices is more of an economic stimulus for the euro area than a harbinger of deflation."
Praet said in an interview this week that taking no action in circumstances of such low inflation risks the ECB's credibility, and has argued that the fall in oil prices is increasingly a sign of weakening demand.
QE Adjustment
"If we conclude that the balance of risks to our medium-term price stability objective is skewed to the downside, we will act by using all the instruments available within our mandate," Draghi said. "In particular, we consider the asset-purchase program to be a powerful and flexible instrument, as it can be adjusted in terms of size, composition or duration to achieve a more expansionary policy stance."
He added that the interest rate on the deposit facility "can empower the transmission" of asset purchases, "not least by increasing the velocity of circulation of bank reserves."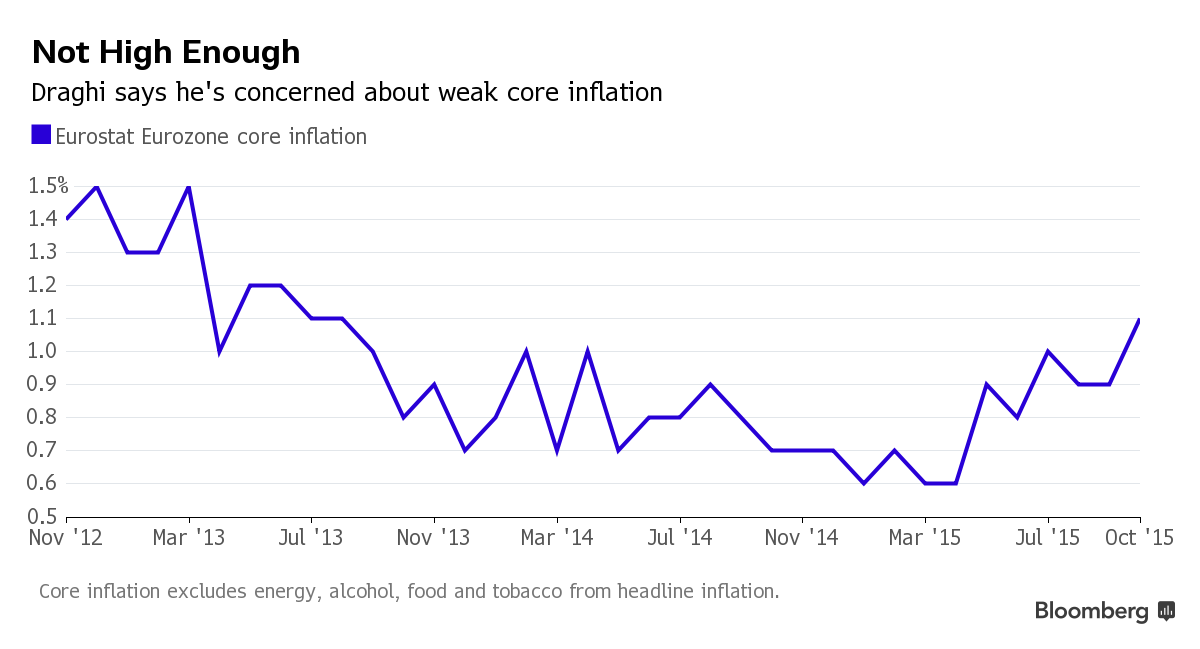 Draghi said core inflation, which excludes energy and food, is also a signal of too-weak price pressures. The rate was 1.1 percent in October. While that's the highest reading in more than two years, it's still barely half the goal for the headline rate.
Core Concern
"Low core inflation is not something we can be relaxed about, as it has in the past been a good forecaster for where inflation will stabilize in the medium-term," he said. "While core industrial goods will receive support from the depreciation of the euro, an increase in core services inflation –- today close to an all-time minimum –- will depend on rising nominal wage growth. For that to pick up, the economy needs to move back to full capacity as quickly as possible."
The ECB is currently buying 60 billion euros a month of bonds and intends to do so through at least September 2016. The deposit rate is at a record-low minus 0.2 percent.
There is "little room for doubt that the central bank is not only about to step up its monetary stimulus, but plans to do so decisively," said Nick Kounis, head of macro research at ABN Amro Bank NV in Amsterdam. "We expect the ECB to step up the pace of QE by 20 billion euros per month, signal that purchases will go on beyond September, and expand the eligible universe of assets to include regional bonds. We also expect a 10 basis-point reduction in the ECB's deposit rate and guidance that it would be cut further if necessary."