Bloomberg, Apr 7, 2016
The Bank of Japan is running out of government bonds to buy.
The central bank's would-be counterparties have become increasingly unwilling to sell the debt that monetary policymakers have pledged to buy, and the most recently issued 30-year Japanese bond didn't record a single trade during a session last week as existing owners opted to hoard their holdings.
The central bank in the land of the rising prices sun has set a target of 80 trillion yen ($733 billion) in government bond purchases per year in its continued attempts to slay deflation, an amount that's more than double the pace of new bond issuance planned by the Ministry of Finance and about 16 percent of gross domestic product.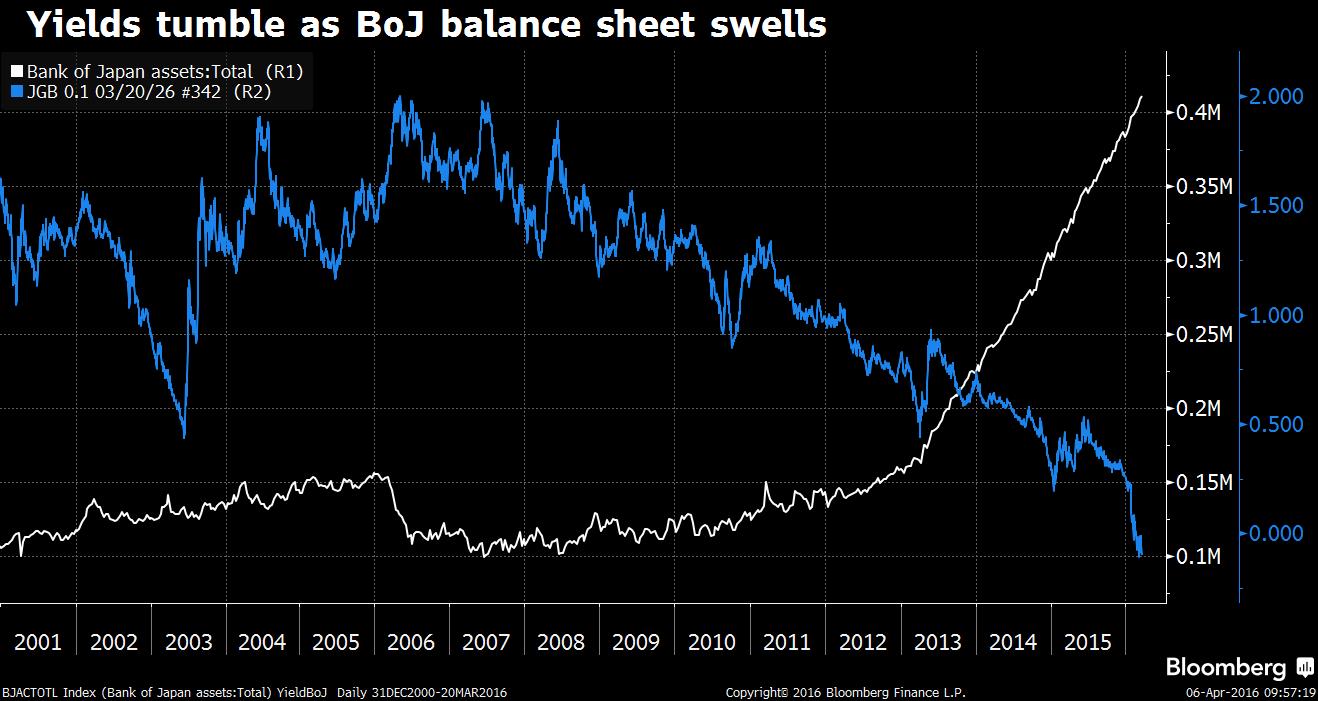 But safe assets like government debt aren't just attractive to central banks looking to force investors into riskier asset classes and push down the cost of borrowing or to pensioners looking for a reliable source of income—they're also in high demand by financial institutions for use as collateral.
That's because where there is a dearth of safe assets, there is also an incentive and tendency for them to be manufactured; that is, improperly labeled as such. Past results certainly haven't been pretty.
As the Bank of Japan begins to rub up against the technical constraints of its asset purchase program, Jefferies Group LLC Chief Global Equity Strategist Sean Darby proposes a radical solution: consolidate some of the Bank of Japan's existing holdings of debt into a perpetual bond—that is, one with no maturity and therefore no principal repayment—with a coupon of zero.
"There is a growing realization that there are effective limits to how much more Japanese government bonds can be acquired," he writes. "The BoJ is approaching a shortage of Japanese government bonds for the central bank to buy, as commercial banks, pension and insurance funds have run down their holdings."
Darby cited a working paper from the International Monetary Fund which concluded the collateral needs of financial institutions were such that the Bank of Japan might be forced to begin tapering its purchases of sovereign debt in 2017 or 2018, to bolster his case.
The thinking here is that as the Bank of Japan reaches the quantitative limits of quantitative easing, the issuance of such a perpetual bond that costs nothing to service would be a way to offer the government a blank cheque to proceed with fiscal stimulus such as boosting spending or cutting taxes.
The strategist believes the Bank of Japan will drop hints about its intention to pursue such a plan at its April meeting.
The Bank of Japan's decision to shock investors and adopt a negative rate regime in January—one week after Governor Haruhiko Kuroda said such a move wasn't needed at the time—was spurred by a desire to push yields at the longer end of the curve as low as possible in preparation for the consolidation of existing debt into a zero coupon bond, according to Darby.
"The authorities are attempting to push bond yields down below existing nominal GDP, so that the existing debt can be converted or 'consolidated' into a perpetual zero coupon bond presumably before any 'tapering announcement,'" he writes.
Whether this extreme step will ever be taken—in particular on the timetable the strategist suggests (i.e. ahead of the elections scheduled for this summer)—is highly questionable.
But Darby's suggestion does underscore that with Japan unable to declare 'mission accomplished' on its quest for reflation and a shortage of bonds looming, it's time to consider Plan (perpetual) B.