Bloomberg, Jun 9, 2016
* Billionaire's first-quarter bet on gold miners among winners
* He's been wary of China's debt-fueled growth for several years
George Soros, the 85-year-old billionaire who broke the Bank of England in 1992, is becoming more involved in day-to-day trading at his family office, taking a series of big, bearish bets.
Soros is best known for netting $1 billion as a hedge fund manager decades ago when he and his then-chief strategist Stan Druckenmiller wagered that the U.K. would be forced to devalue the pound. His predictions haven't always played out so well.
Anticipating weakness in various global markets, his Soros Fund Management cut its publicly disclosed U.S. stock holdings by 37 percent in the first quarter while buying shares of gold miners and an exchange-traded fund tracking the price of the precious metal.
Since then, the S&P 500 Index has returned 3.1 percent. Barrick Gold Corp., his largest new position disclosed in the quarter, fared better, jumping 44 percent.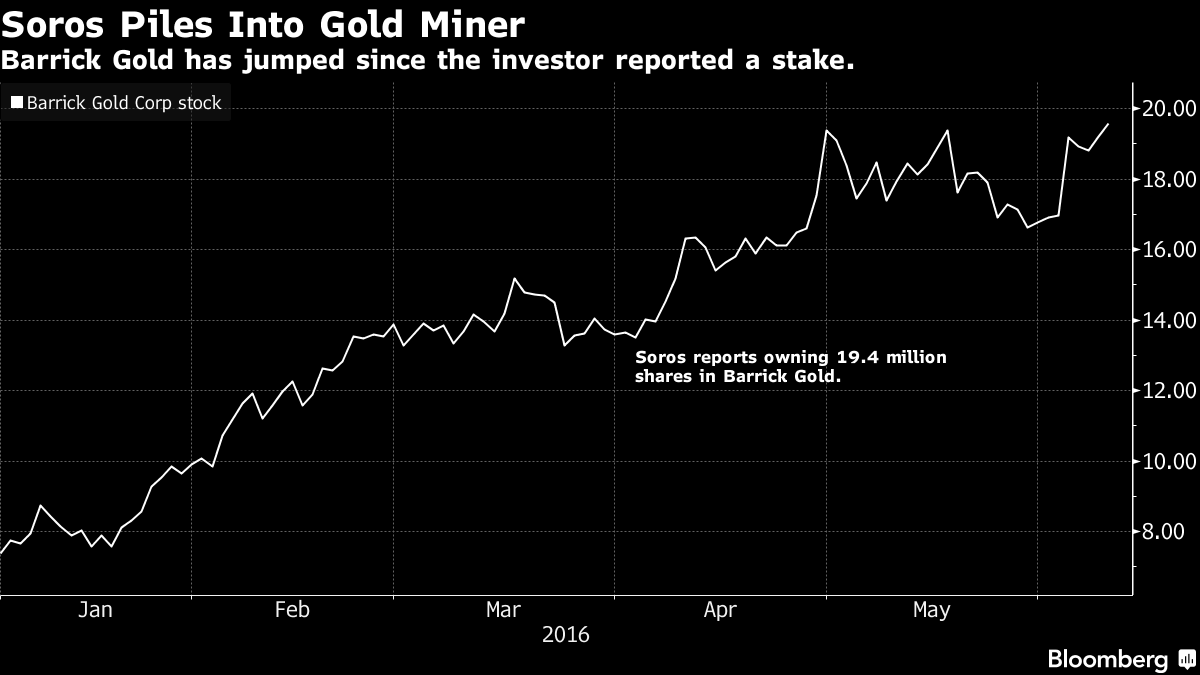 Here's a look at some recent calls by Soros, whose personal fortune is estimated at $24.7 billion, and some of the other trades made by his family office in the past few years:
China Uncertainty
Soros has been worrying about China since at least 2013, expressing increasing concern that the country's leaders might not be able to manage an economic slowdown.
Earlier this year, he compared China's economy to the U.S. in 2007-08, pointing to debt-fueled growth that's produced uncertainty and instability in the country's banking system.
"Most of the money that banks are supplying is needed to keep bad debts and
loss-making enterprises alive," Soros said on April 20 at an Asia Society event in New York.
More defaults may be looming in the nation's corporate bond market. Bloomberg Intelligence estimated in May that 15.6 trillion yuan ($2.4 trillion) of corporate borrowing can be classified as "at risk loans" — those where the borrower doesn't have sufficient earnings to cover interest payments. That's equal to 23 percent of the country's gross domestic product in 2015.
China's Hang Seng Index has returned 10 percent over the past three years, not great, but nothing like the 37 percent slump in U.S. stocks in 2008. The index is down 22 percent from a post-financial crisis peak in April 2015, when including dividends.
Europe Crisis
At a panel discussion on Sept. 24, 2011, Soros said the Greece-born European debt crunch was "more serious than the crisis of 2008." Last year, he said the chances of Greece leaving the euro area were 50-50.
"You can keep on pushing it back indefinitely" by making interest payments without writing down debt, Soros said in a Bloomberg Television interview that aired March 24, 2015. "But in the meantime there will be no primary surplus because Greece is going down the drain."
There are signs that nervousness about the euro area economy is ebbing as investors increasingly focus on China. Greece and its creditors in the currency bloc may be nearing an agreement to disburse a new tranche of bailout aid that would allow it to meet debt payments this summer and also pave the way for restoring access to the European Central Bank's regular refinancing operations.
Since Soros's 2011 comments, the Bloomberg European 500 Index has returned 82 percent. European sovereign debt has returned about 14 percent in dollar terms.
Argentina Bonds
Soros took a personal interest in Argentina — where he's been invested for decades — and most recently wagered successfully on the country's defaulted bonds. From time to time, he'd meet personally with former President Cristina Fernandez de Kirchner to discuss Argentina's economic prospects. After a U.S. court blocked payments on the nation's bonds, his Quantum Partners fund in 2014 joined an investor group that sued bond trustee Bank of New York Mellon Corp. in London for failing to distribute interest payments on securities, claiming the ruling shouldn't apply to notes governed by laws outside of the U.S.
While the dispute was resolved after Fernandez left office last year, Soros has still been showing interest in the country. Representatives for his fund participated in Argentina's bond roadshow in April, according to a document obtained by Bloomberg, after which the government sold a record $16.5 billion in securities in its return to the global debt market.
Argentine bonds have returned 57 percent on average since Soros's bet was revealed with the lawsuit in August 2014.
Soros's family office made almost $1 billion from November 2012 to February 2013 betting that the Japanese yen would tumble with the election of Prime Minster Shinzo Abe, who pressed the Bank of Japan to introduce additional stimulus measures. A couple of months later, the billionaire warned that moves to expand monetary easing could trigger "an avalanche" in the yen as citizens shift their money abroad.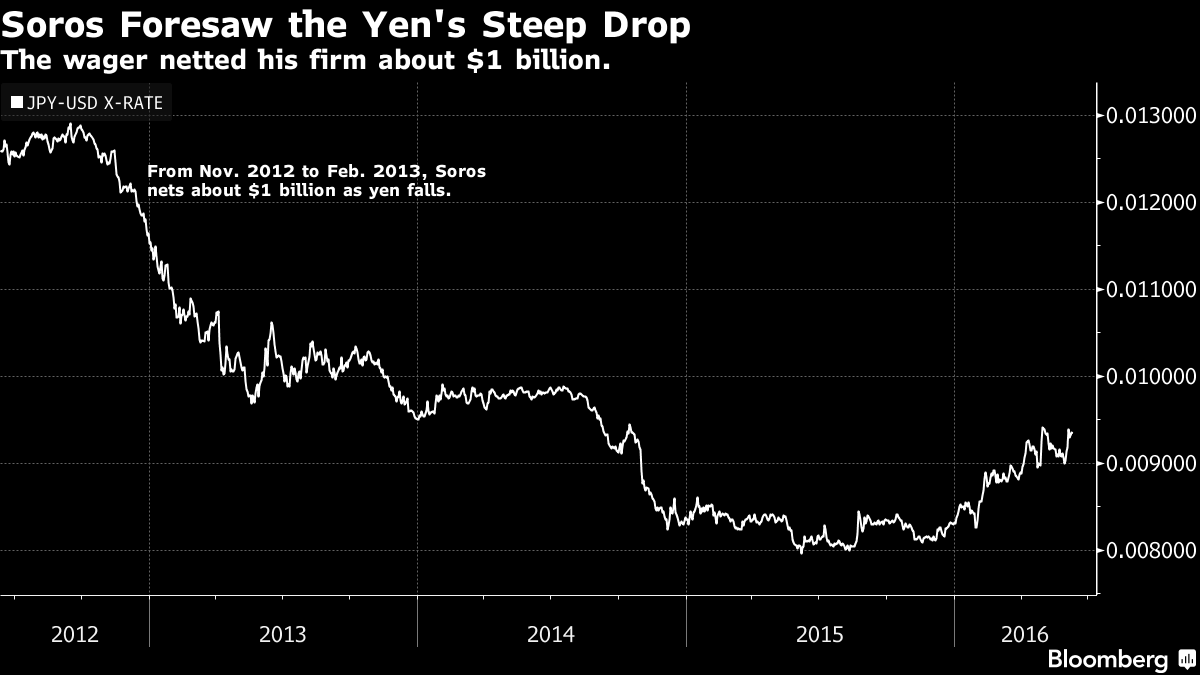 "What Japan is doing is actually quite dangerous because they're doing it after 25 years of just simply accumulating deficits and not getting the economy going," Soros said in an April 5, 2013, interview with CNBC. Central bank officials may not be able to stop the currency's fall, he said.
The yen continued to fall in the wake of Soros's comments.