Bloomberg, Oct 27, 2016
* Worries over weakening yuan, property market may spur demand
* Swiss gold shipments to China rose by almost 80% in September
China, the world's biggest gold consumer, raised bullion imports from Hong Kong in September for the first time in four months as investors sought to diversify their assets on prospects for a weakening yuan.
Net purchases were 44.9 metric tons from 41.9 tons in August and 96.6 tons in the same month last year, according to data from the Hong Kong Census and Statistics Department compiled by Bloomberg. The mainland bought 64.8 tons compared with 55.2 tons in August, while exports were 19.9 tons from 13.2 tons. Mainland China doesn't publish the data.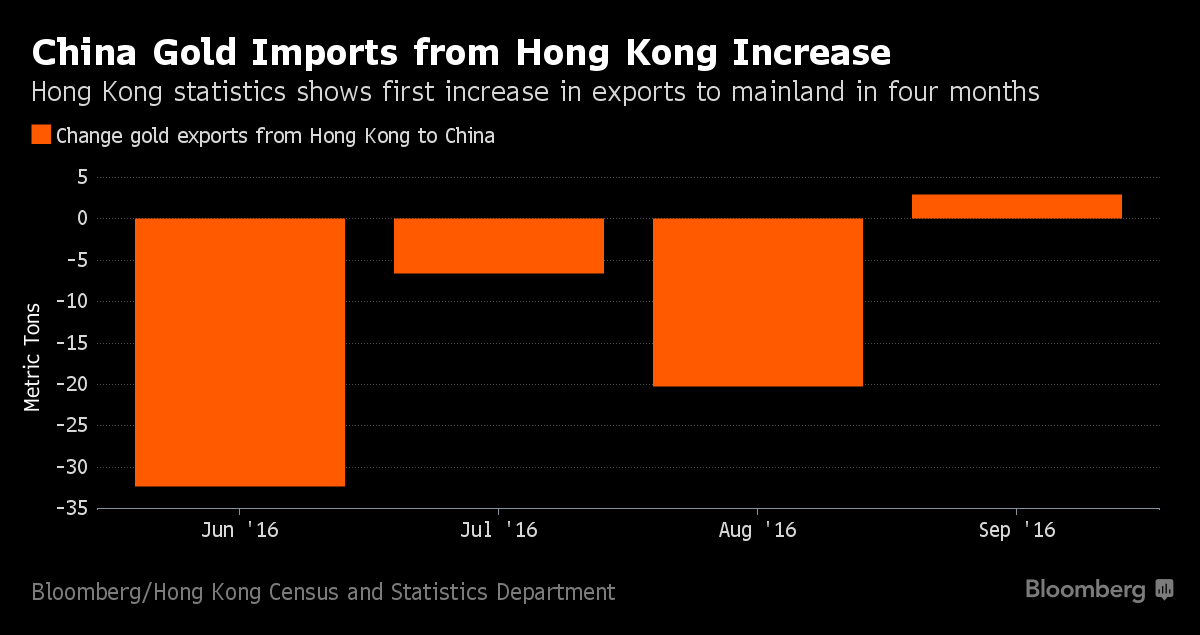 The higher Chinese imports came in a month when global prices and holdings in gold-backed exchange-traded funds rose only 0.5 percent as investors weighed comments from Federal Reserve officials on a possible U.S. interest rate increase. Further weakness in China's currency and investors' concerns over the outlook for the nation's property market may spur gold demand, according to Goldman Sachs Group Inc. 
The offshore yuan sank to a record this week as Chinese policy makers signaled they are willing to allow greater currency flexibility amid a slump in exports and rise in the greenback.
Shipments of gold from Switzerland to China increased to 35.5 tons last month from 19.9 tons in August while exports to Hong Kong declined to 11.5 tons from 24 tons, according to figures from the website of Swiss Federal Customs Administration. The European country is a major bullion-trading center and home to several refineries.