Bloomberg, Nov 16, 2016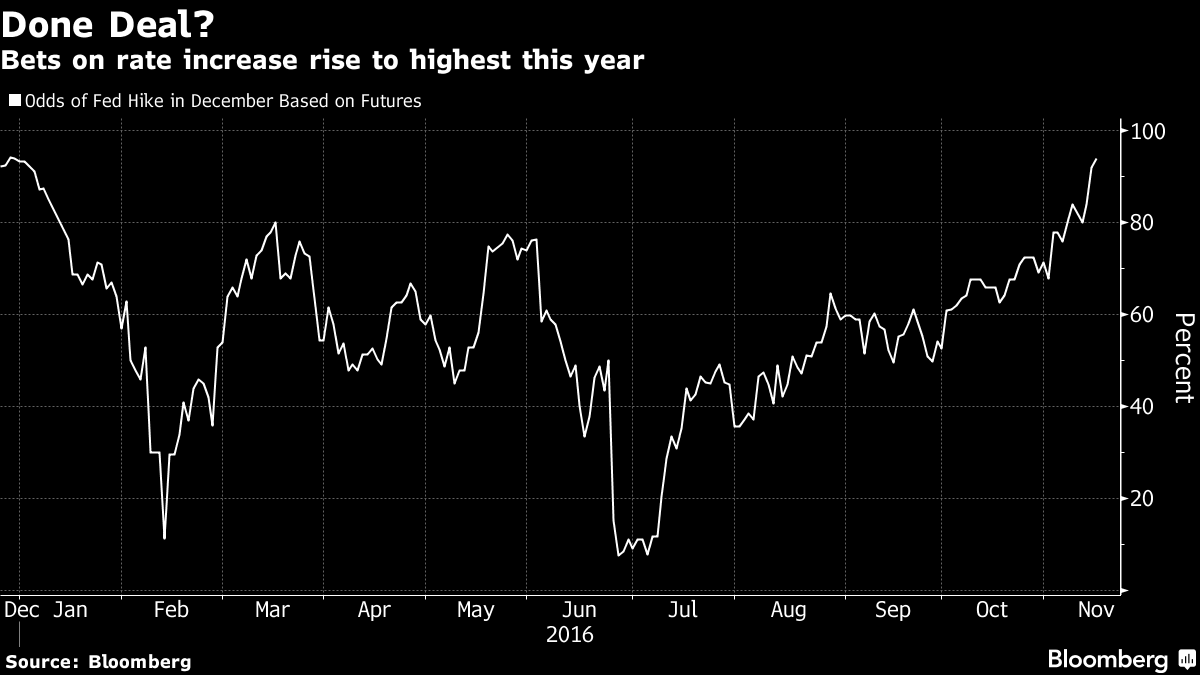 * Dollar gains versus most peers; yuan sinks to eight-year low
* Stocks slip amid speculation on Trump policies' rate impact
Government bonds tumbled around the world and the dollar rose on speculation that the economic outlook is sufficiently strong to allow the Federal Reserve to step up the pace of interest-rate hikes. Metals and crude oil fell.
Portuguese and Italian debt led declines in Europe, Treasuries also fell and Japan's 10-year bond yield increased to the highest level since February. Russia's ruble lost the most among emerging-market currencies as the dollar rallied. Crude oil reversed an earlier gain with U.S. stockpiles forecast to increase and optimism waning that OPEC's latest push for a production-cutting deal will pay off. Zinc fell from a six-year high as industrial metals sank.
The S&P 500 Index retreated and European shares ended two days of gains.
Reaction to Donald Trump's ascendancy to U.S. president has defied expectations. While analysts spent early November warning a Trump administration would hurt economic outlook and slow the pace of rate increases, his election has instead made Fed action a near certainty. The odds of a hike by December have risen to about a 96 percent probability, the highest level this year, from 68 percent at the start of November, on speculation the Republican's policies will boost inflation.
"The inflation story is still in play," said Birgit Figge, a fixed-income strategist at DZ Bank AG in Frankfurt. "The market is expecting an interest-rate hike in December, and there is no fundamental reason for the Fed" to disappoint, she said.
Wholesale prices in the U.S. were unexpectedly weak in October, with an unchanged reading in the producer-price index from the previous month that followed a 0.3 percent increase in September, a Labor Department report showed Wednesday in Washington. The median forecast of economists surveyed by Bloomberg called for a 0.3 percent increase.
St. Louis Fed President James Bullard says there's a chance the U.S. economy could get a medium-term boost if Trump increases infrastructure spending and tax reforms. Fed President Patrick Harker is also scheduled to speak Wednesday and may shed more light on the likely trajectory of borrowing costs in the world's biggest economy. Fed Chair Janet Yellen is scheduled to testify to the Joint Economic Committee of Congress on Thursday.
Bonds
The yield on Treasuries due in a decade rose two basis points, or 0.02 percentage point, to 2.24 percent as of 9:39 a.m. New York time, after retreating from its highest level of the year in the last session. It's up more than 40 basis points since Trump's election, having surged amid growing speculation the Fed will boost interest rates next month and beyond. The bond-market rout pushed Bank of America Corp.'s Global Broad Market Index down 1.5 percent in November, heading for the biggest monthly decline since May 2013.
The renewed selloff spread to Europe, with the yield on Portugal's 10-year bonds adding 17 basis points to 3.64 percent. Italy's 10-year yield increased seven basis points to 2.03 percent, while that on similar-maturity German bunds little changed at 0.31 percent.
Japan's 10-year government bonds fell for a fifth day, lifting their yield to 0.027 percent. Tuesday marked the end of almost eight weeks of negative rates, the first time the bond market has tested the Bank of Japan's resolve to contain 10-year yields since it shifted its focus to controlling the benchmark yield around zero.
The BOJ said after its September meeting that it could carry out unlimited bond-buying operations at a set rate, if needed, in order to control yield levels. After that meeting, the bond market rallied in search of a floor for the 10-year note yield, eventually settling just above the minus 0.1 percent policy rate.
Currencies
The Bloomberg Dollar Spot Index, which tracks the U.S. currency against 10 major peers, rose 0.1 percent. It slipped on Tuesday after surging more than 3 percent in the four trading days following the Nov. 8 U.S. election.
Currencies of commodity-producing nations, including the Australian dollar and South African rand, were among the biggest losers.
The MSCI Emerging Markets Currency Index fell 0.2 percent and Russia's ruble dropped 1.2 percent, after jumping 2.9 percent on Tuesday, the most since February. Turkey's lira, Poland's zloty and Mexico's peso all dropped as higher U.S. yields boosted the dollar. The yuan fell to the weakest since December 2008.
Commodities
Crude oil fell 1 percent to $45.34 a barrel in New York, after earlier rising as much as 0.8 percent. Oil retreated for the past three weeks amid skepticism about the ability of OPEC to implement a deal at its Nov. 30 meeting. The group is seeking to trim output for the first time in eight years as Iran boosts production and Iraq seeks an exemption because of war with Islamic militants. Prices will probably remain around current levels if OPEC fails to cut, according to BP Plc Chief Executive Officer Bob Dudley.
Copper and aluminum declined in London, extending their retreats from one-year highs reached last week, and zinc retreated from its highest close since 2010. Metals rallied last week on a combination of increased speculative interest in China and optimism Trump's pledge to spend as much as $1 trillion on infrastructure will boost demand. The 14-day relative strength index for the London Metal Exchange Index climbed as high as 87 last week, well above the 70 threshold that signals to some traders prices may have risen too far, too fast.
"Investors took the opportunity to lock in gains after some big moves over the past week," ANZ Bank said in a note on Wednesday. "Skepticism grew about the impact that Trump's infrastructure spending program would have on demand."
Stocks
The S&P 500 Index fell 0.2 percent to 2,177.21. The gauge rose 0.8 percent yesterday, pushing its advance since Nov. 8 to 1.9 percent and closing within 0.5 percent of an all-time high set in August.
"We've seen the aftermath of the election and the results reflected in the market in a very short time so the market is likely to consolidate as fundamentals need to catch up to growth expectations," said Carin Pai, director of equity management at Fiduciary Trust Company International in New York. The firm manages more than $75 billion. "It's going to take a lot of time for these policies to get ironed out."
The Stoxx Europe 600 Index declined, paring gains of as much as 0.6 percent. Nokia Oyj rebounded from a three-day losing streak, pacing technology stocks higher as Nordea Bank AB raised its recommendation on the Finnish network manufacturer to buy. Vodafone Group Plc contributed most to gains among telecommunications companies. Bayer AG sank 2.1 percent after issuing 4 billion euros ($4.3 billion) of convertible bonds.
The MSCI Asia Pacific Index added 0.3 percent. Japan's Topix index rallied to a nine-month high, driven by gains in banking stocks as investors bet earnings at financial companies will benefit from the recent pickup in bond yields. The Topix Banks Index has jumped more than 20 percent in five days, the steepest surge since 2008.