Bloomberg, Sep 12, 2016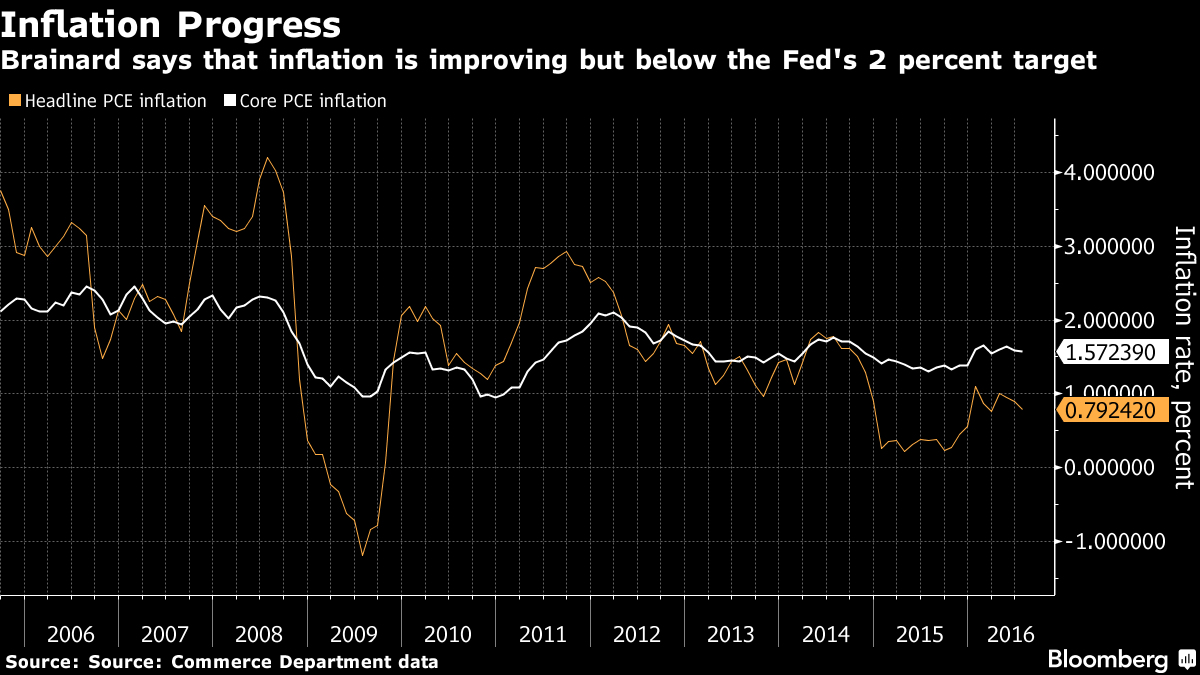 Federal Reserve Governor Lael Brainard counseled continued prudence in tightening monetary policy, even as she said the economy is making gradual progress toward achieving the central bank's goals.
"The case to tighten policy preemptively is less compelling" in an environment where declining unemployment has been slow to spur faster inflation, Brainard said Monday, according to the text of her prepared remarks in Chicago. She made no reference to a specific meeting of the policy-setting Federal Open Market Committee.
Brainard's comments are the last before the Fed enters its quiet period, during which officials abstain from publicly speaking about monetary policy in the run-up to an FOMC meeting. Policy makers will gather in Washington Sept. 20-21 to discuss their monetary policy stance. Recent comments from the committee's voters have not projected a cohesive signal about whether they will lift interest rates or stay on hold.
"Asymmetry in risk management in today's new normal counsels prudence in the removal of policy accommodation," Brainard said, arguing that with interest rates near zero, it's easier for the Fed to react to faster-than-expected demand than to a negative surprise that upsets the economy. "I believe this approach has served us well in recent months."
Patient Approach
Brainard has consistently urged patience in hiking rates, pointing to the uncertain global economic environment and unconvincing improvement in inflation as reasons for caution. Her most recent speech before today was on June 3.
In Monday's speech, Brainard highlighted five major reasons for caution: inflation is less responsive to labor-market improvement than in the past, labor-market slack seems to persist, financial transmission from foreign markets is strong and poses a risk, and the interest rate where policy moves from easy to tight is lower than in the past — and is likely to stay there for some time. Her final point is that monetary policy is less able to respond to negative shocks than to a quick pickup in demand.
Despite that cautious view, Brainard also pointed to recent developments that show the economy is moving toward achieving the Fed's goals of maximum employment and 2 percent inflation. She said the job market is making progress and getting closer to full employment and the Fed has "seen signs of progress on our inflation mandate."
Inflation has not advanced as much as the Fed had hoped, with both its preferred gauge of headline and core price pressures still beneath the central bank's 2 percent target. U.S. gross domestic product growth has also been slow. Still, Brainard said recent data suggest that third-quarter growth will accelerate.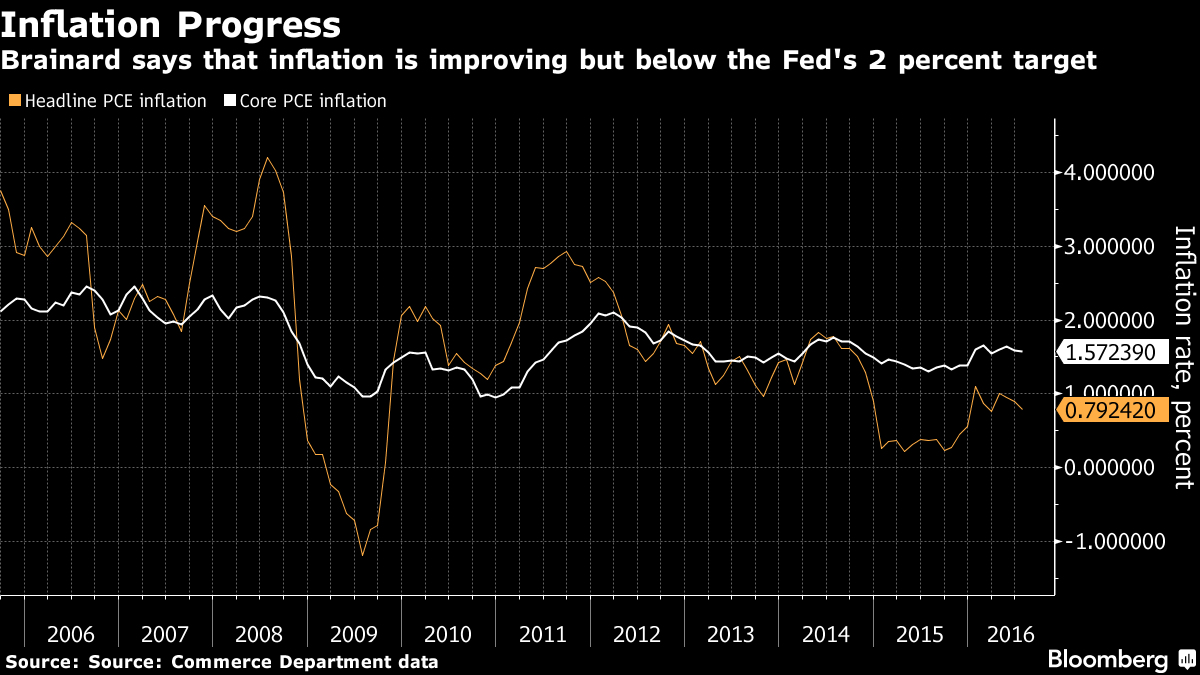 Looking at the longer-term outlook for monetary policy, Brainard opened the door to considering a reframing of how the Fed looks at the economy. San Francisco Fed President John Williams has said he and his colleagues should consider their future framework in a world where neutral interest rates, those that neither stoke nor slow growth, may be permanently lower.
"There is a growing literature on such policy alternatives, such as raising the inflation target, moving to a nominal income target, or deploying negative interest rates," Brainard said. "These options merit further assessment. However, they are largely untested and would take some time to assess and prepare."