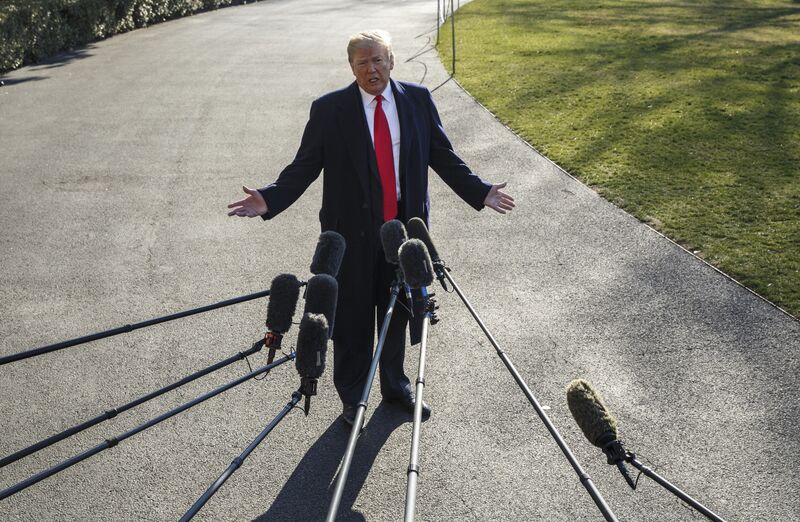 In accepting the Republican nomination for president in 2016, Donald Trump described a nation plagued with problems and declared: "I alone can fix it."
Now, as he fires top aides who were a moderating force and replaces them with loyalists who share his world view and won't object to his most controversial impulses, his administration is fast becoming a presidency of one.
That accelerated with the ouster of Secretary of State Rex Tillerson on Tuesday and last week's resignation of White House economic adviser Gary Cohn. The moves make clear that Trump has lost interest in hearing dissenting voices and are likely to fundamentally shift American diplomacy and economic strategy.
More departures may come soon.
"Because he's had all these different voices around him that have all these different ideas, it ended up being just a grand experiment," said Harry Kazianis, director of defense studies at the Center for the National Interest. "I think the president realizes the experiment has failed and it's time to push forward in the direction that he's always wanted."
Even as Trump has ousted those who disagree with him, other top officials who have hewed closely to Trump's views– Treasury Secretary Steven Mnuchin, Budget Director Mick Mulvaney, and U.S. Ambassador to the United Nations Nikki Haley — have thrived in their positions. Trump likes Mulvaney so much he gave him a second job, leading the Consumer Financial Protection Bureau, and his name often comes up as a potential replacement for Chief of Staff John Kelly.
Executive Branch Exodus
The exodus has hit long-serving loyalists and outside luminaries recruited to be policy guides for an inexperienced commander-in-chief facing crucial decisions. In coming months, the president plans to sit down with North Korea's Kim Jong Un to discuss nuclear weapons, negotiate with various countries seeking exemptions from metals tariffs and decide whether to upend the Iran nuclear accord by imposing new sanctions.
He'll confront the dilemmas making good on his promise to run the country like he ran his business. The Trump Organization functioned with him at a desk, surrounded by a handful of employees who carried out his orders, or were out of a job. The same is increasingly true of the Oval Office.
Trump told reporters Tuesday he made the decision to hold talks with Kim "by myself" and didn't consult with Tillerson in advance. He said that he wants to "break" the Iran nuclear deal, but previously yielded to Tillerson and others who advised against following that impulse. And he imposed steep tariffs on imported steel and aluminum last week, overruling Cohn, who resigned.
Aides anticipate more changes, including the potential departure of National Security Adviser H.R. McMaster. A White House official said Trump's replacement of Tillerson was part of an effort to have a new team in place before the North Korea talks and trade negotiations.
Criticism is also surfacing publicly of Veterans Affairs Secretary David Shulkin and Education Secretary Betsy DeVos. Trump regularly vents at his attorney general, Jeff Sessions.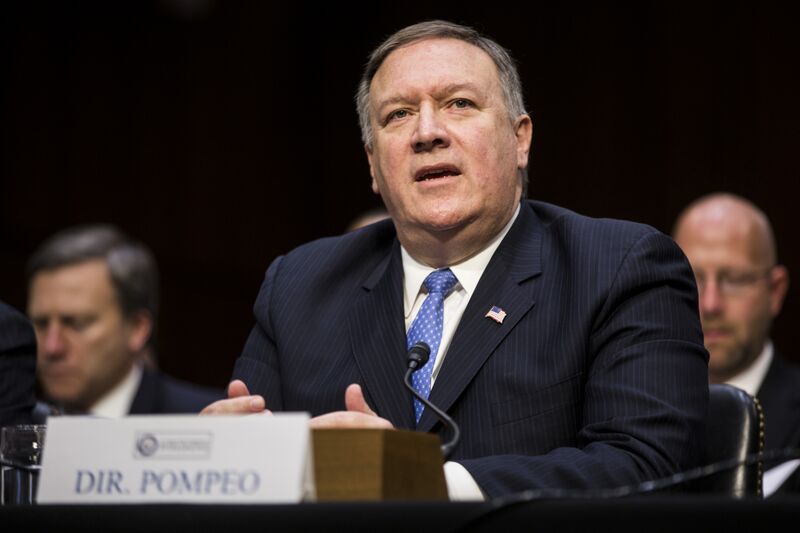 The Cabinet He Wants
"I'm really at a point where we're getting very close to having the Cabinet and other things that I want," Trump told reporters on Tuesday.
Trump said he would nominate CIA Director Mike Pompeo as his new secretary of state, and nominate deputy CIA director Gina Haspel to run the intelligence agency.
He stressed similarities in outlook in praising his choice for secretary of state. "We're always on the same wavelength," he said of Pompeo. "We have a very similar thought process."
Turmoil and Credibility
Critics say the constant turmoil and turnover within the Trump White House has left the government's foreign policy apparatus understaffed and ill-equipped to face a growing number of global challenges.
"The key challenge we face as a country is credibility," said Brett Bruen, a former State Department official. "We don't have credible voices that can explain what the president is thinking at any one time, let alone trying to move concertedly in a direction that — as Tillerson found out all too well — could change at a moment's notice and without any consultation."
Bruen, who served as the National Security Council's director of global engagement in the Obama administration, said Trump's inability to nominate an ambassador to South Korea amid a crisis on the Korean Peninsula is a telling sign of how "exceptionally unattractive" it is to work for Trump.
The One Who Matters
"The exodus of experienced diplomats, as well as the failure to fill some of the most important jobs within the department, has paralyzed American diplomacy at a time it is desperately needed," Representative Adam Schiff, a California Democrat and ranking member on the House Intelligence Committee, said in a statement.
Trump has said he intends to leave many of the positions unfilled, because he will ultimately drive the policy.
"I'm the only one that matters," Trump said in a Fox News interview last year.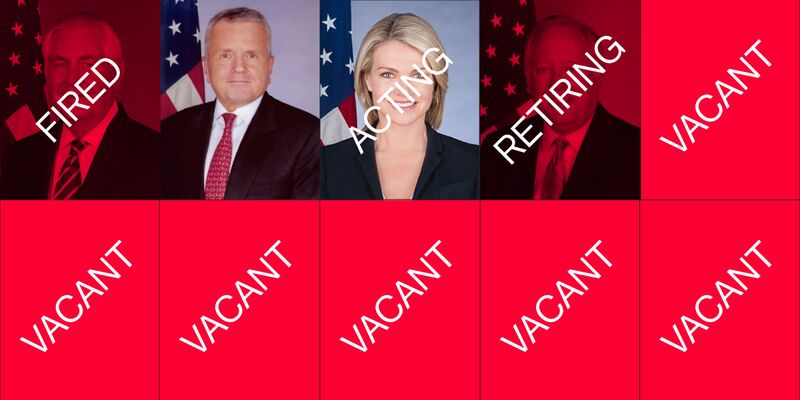 In additional to Cohn and Tillerson, recent departures from the Trump administration include outgoing communications director Hope Hicks, staff secretary Rob Porter, deputy national security adviser Dina Powell and deputy communications director Josh Raffel. Trump's longtime personal aide John McEntee was dismissed Monday and Undersecretary of State for Public Diplomacy and Public Affairs Steve Goldstein was fired hours after Tillerson on Tuesday.
Negotiating With Autocrats
Tillerson had planned to play a central role in preparations for the president's meeting with Kim in May. Such negotiations are Tillerson's specialty, honed during decades as a senior executive and later chief of Exxon Mobil Corp. He squared off against Idriss Deby, the authoritarian president of Chad; Saudi Arabian royalty and the government of Venezuelan strongman Hugo Chavez.
His departure added to fears that if the meeting fails, the U.S. will lurch closer to war with North Korea. Tillerson had championed diplomacy as the best option, and said so again in his farewell remarks to the State Department.
"To the men and women in uniform, I'm told for the first time in most people's memory, the Department of State and Department of Defense have a close working relationship where we all agree that U.S. leadership starts with diplomacy," he said.
Tillerson and Defense Secretary Jim Mattis established a partnership, working together at times to temper Trump's combative approach to world affairs.
Iran Deal
Another issue now in limbo is the negotiations to strengthen the Iran nuclear deal. That work has been done chiefly by Tillerson's policy planning chief Brian Hook. Tillerson broke with Trump in his belief that the administration shouldn't walk away from the agreement, and Hook's job in recent weeks has been chiefly to come up with revisions that keep the U.S. in the deal while also pleasing the president.
Trump cited his differences with Tillerson over the Iran deal as one reason why he fired his secretary of state. "We disagreed on things," Trump said. "When you look at the Iran deal, I think it was terrible."
Tillerson, he said, thought otherwise.
"I wanted to either break it or do something, and he felt a little bit differently," he said. "So we were not really thinking the same."